U of T powers innovation in Canada's established sectors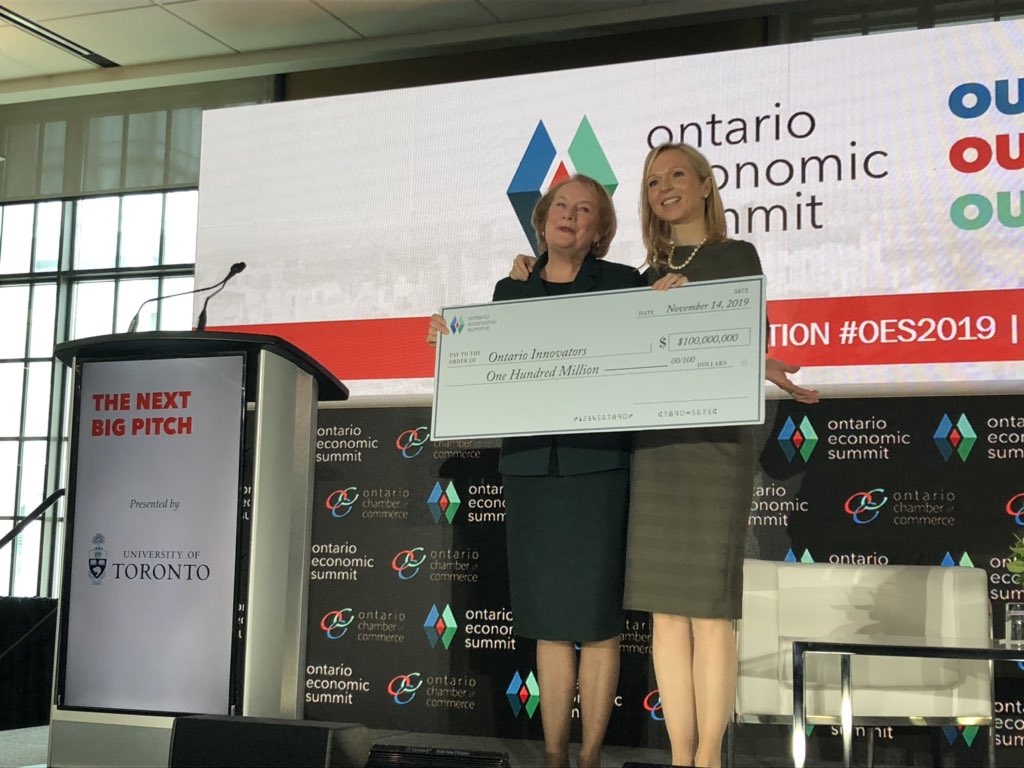 Is mass timber the next big thing on the innovation horizon? According to the audience at this year's Ontario Economic Summit, the answer is "yes." A proposal for boosting the forestry  industry in the province won out over three other presentations from University of Toronto leaders and entrepreneurs vying for a hypothetical $100-million investment through audience voting.
Mass timber, and the tall wood construction it makes possible, was pitched as an innovative new economy sector with the potential to sustain  the forestry industry. Anne Koven, the executive director of the Mass Timber Institute, a private-public collaboration with the University of Toronto, governments, forestry sector organizations and other postsecondary institutions, , made the winning proposal.
Mass timber is increasingly used around the world for building tall structures that are strong, fire-resistant and consume fewer environmental resources than concrete buildings. The material is at the intersection of solutions to climate change, regional economic disparity and housing, Koven said, with construction in the south of the province spurring job growth in the north.
"Ontario needs to capitalize on its sustainably managed resources so that we add even more value to our forest products and produce more high-paying jobs for designers, engineers and mill operators across the province," she said.
U of T is planning a 14-storey Tall Academic Tower project that will show how buildings that include mass timber demonstrate the material's strength and beauty.
"Why are universities and colleges building demonstration projects that will further spur the design and construction industries to use mass timber?" she asked. Because "it is the job of universities to lead the way in doing difficult things that others will not or cannot do, especially when the benefits are great … such as those associated with mass timber."
With the forestry industry accounting for seven per cent of Canada's exports, Canada has the resources, and engineering and design expertise, to become globally competitive in this area. Rocco Rossi, CEO of the Ontario Chamber of Commerce and host of the Summit, told the audience he was excited by the possibility of innovation in established sectors like forestry.
"We have enormous historical strengths and when joined to our technology, it will set [Canada] apart," he said.
The annual event brings industry, experts and politicians together to study global trends and share solutions to provincial and national economic challenges. The Summit highlighted the increasingly important role of postsecondary institutions in preparing adaptable  skilled talent for the needs of the province's economy. While the money was hypothetical, the "Next Big Idea Pitch Panel" underlined the positive impact U of T's leading researchers and entrepreneurs are making in the lives of people in Ontario and Canada, and in preparing students to develop and lead emerging technologies.
Goldie Nejat, Canada Research Chair in Robotics, explained how her lab is helping older adults maintain their independence and physical ability by using robots to assist with daily tasks, medication reminders and exercise. Ontario is the perfect place for this research because it combines the province's strengths in AI and health-care.
Hani Naguib, director of the Toronto Institute for Advanced Manufacturing, explained how his research is transforming advanced manufacturing in health care and energy with flexible sensors and soft robotics.
Allen Lau, co-founder of Wattpad and U of T graduate, advocated for private and public investments in medium-sized companies. Companies with over 100 people and over $100-million in revenue are well positioned for global competitiveness, he said. Wattpad is a global technology platform that partners with major entertainment studios to find stories that appeal to international audiences.