Minister Graydon Smith tours U of T's rooftop lab and forestry facilities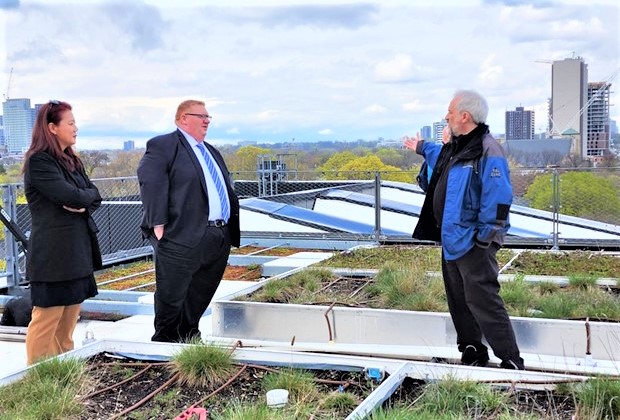 Hon. Graydon Smith, Minister of Natural Resources and Forestry visited he University of Toronto's rooftop labs for a tour. This tour featured a visit to the university's rooftop lab along with other forestry research facilities.
The Minister met with students and researchers to learn more about the University of Toronto's work in the areas of biomass and forestry. Launched as part of the Green Roof Innovation Testing Laboratory (GRIT), this rooftop lab is used to study the production of biochar produced from biomass with the aim of discovering practical applications where this research could be used, such as in the reduction of toxin accumulation at mining sites and in the automotive industry, where products of biomass can be converted into the foam used in car seat production.
Following the rooftop lab tour, the Minister had a chance to have a hands-on look at the new industrial materials being developed out of U of T's forestry research department and learned more about the industry partners who have used these new materials within the manufacturing process of biomedical devices, packaging solutions, flexible electronics, and building and transportation materials.
Read more about Government Relations events here.