Ukraine's President Zelenskyy speaks with Canadian students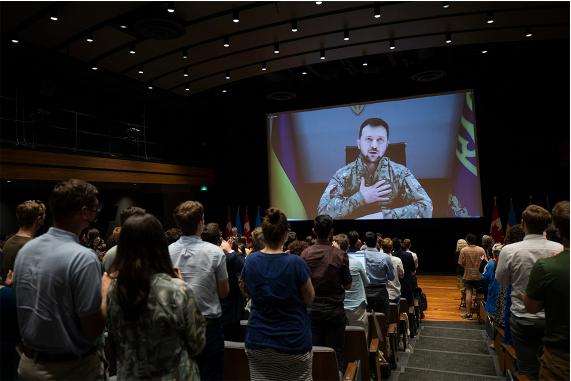 After a month at the University of Toronto, Kateryna Luchka wants to know what to expect upon returning to her hometown of Pryluky, Ukraine – a region she described as "very dangerous" given the ongoing Russian invasion of her country.
So, she put the question Ukraine President Volodymyr Zelenskyy directly.
The exchange took place at an event Wednesday – hosted and organized by U of T's president and the Munk School of Global Affairs & Public Policy – that brought together students at U of T and 11 other Canadian universities (see the full list below) face-to-face with Ukraine's leader via live video link.
Wearing military fatigues and sitting at a desk between two flags, Zelenskyy delivered a short address before participating in a question-and-answer session with students across the country.
He recalled attending a U of T-hosted international summit on the future of Ukraine in 2019, when he likened Ukraine's underdog status to that of the championship-winning Toronto Raptors – a comparison that takes on an entirely different meaning three years later.
"Today we are fighting for the future of our children and grandchildren – for the possibility of building the new country," he said, speaking through an interpreter, of Ukraine's efforts to repel one of the world's largest armies from its borders.
"We shall prevail against all the odds for the free and democratic future."
He added that Russia's four-month-old invasion has wrought hundreds of billions of dollars in damage, erasing much of the progress Ukraine has made toward improving infrastructure, attracting foreign investment and increasing digitalization.
U of T President Meric Gertler said he was deeply honoured that Zelenskyy took the time to speak with students at U of T and at universities across the country.
"President Zelenskyy, you and the people of Ukraine have earned the admiration of people across Canada – and around the world – for your leadership and your courage in this time of crisis," he said.
"Universities across our country have responded to your call of action. Many of them, including the University of Toronto, are welcoming students and faculty from Ukraine – and because we are inclined to build bridges rather than walls, we have also forged strong partnerships with leading universities in Ukraine."
With the support of a $3.2 million donation from the Temerty Foundation, U of T is welcoming more than 200 students from Ukraine whose studies were disrupted by the war. The first group of 20 students from the National University of Kyiv-Mohyla Academy (KMA) arrived last month through an exchange program with U of T's Faculty of Arts & Science. A second cohort of students is scheduled to arrive in September. Three KMA faculty are also at U of T as visiting professors.
There is also an exchange program run by the department of computer science, in the Faculty of Arts & Science, and the Vector Institute for Artificial Intelligence that has brought 29 students to U of T, as well as a U of T Mississauga program that is bringing 20 students.
In addition, Peter Loewen, director of U of T's Munk School of Global Affairs & Public Policy, announced during the event that up to 30 students from the Kyiv School of Economics (KSE) would be arriving on campus this fall to study in the Munk School's Master of Global Affairs & Master of Public Policy programs. The students from KSE will have their tuition covered by U of T and are eligible for financial support from Mitacs, a Canadian non-profit organization, for their living expenses.
By Mariam Matti and Geoffrey Vendeville
Photo: Ukraine President Volodymyr Zelenskyy at an event hosted by U of T President Meric Gertler and the Munk School of Global Affairs & Public Policy (photo by Nick Iwanyshyn)