Diplomats and scholars from Africa join U of T colleagues to talk about shared priorities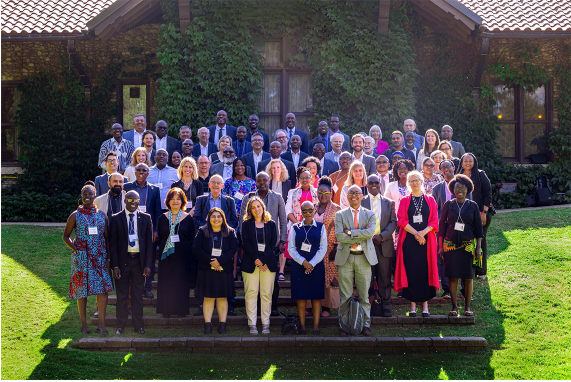 Diplomats, potential funding partners, faculty and academic leaders from African universities and the University of Toronto gathered recently to discuss ideas on co-creating and advancing partnerships that address urgent global priorities. 
The historic two-day event, held at the U of T Scarborough and St. George campuses, was the first U of T gathering of its kind to discuss ideas for partnerships that address some of the most important issues facing Africa and Canada. It was organized by U of T Scarborough and the university's Office of the Vice-President, International under the guidance of the Presidential Council for Africa.
Professor Joseph Wong, vice-president, international, said the pandemic showed the world to be a much smaller place than once imagined.
"Precisely at the time when the world is both smaller and more disparate, we require principled leadership – and that's in this room," Wong said. 
Other speakers explained how Africa figures prominently in U of T's plans for the future.
Professor Wisdom Tettey, U of T vice-president and principal of U of T Scarborough, outlined U of T's recently developed Africa strategy, which is based on principles of equity, co-learning, and a commitment to the value of mutual excellence for inclusive impact. He said the university's strategic framework will guide new and ongoing relationships with institutions across Africa. In her opening remarks, Professor Cheryl Regehr, U of T's vice-president and provost, emphasized the university's long-standing relationship with African institutions and stressed the commitment to build on those relationships as part of the Africa strategy.
One of the event's main aims was to begin finding ways to "transform our goals of co-creation into a roadmap," Wong said, noting the day's discussions would also focus on identifying areas of expertise and alignment on goals shared by U of T and potential partner institutions in Africa. 
On day two of the event, dignitaries and organizational leaders from Africa gathered at the St. George campus where they met with U of T President Meric Gertler and toured U of T's innovation and entrepreneurship ecosystem. Discussions turned to ways the U of T entrepreneurship community can engage with decision-makers and organizations in Africa.
President Gertler also reiterated the importance of Africa as a strategic focus for U of T and emphasized African universities as equal partners.
By Alexa Battler
Photo: Diplomats and scholars from Africa recently met with U of T colleagues at a two-day event focused on issues of mutual and global importance (photo by Ruilin Yuan)