U of T contributing to success of Toronto region, councillors say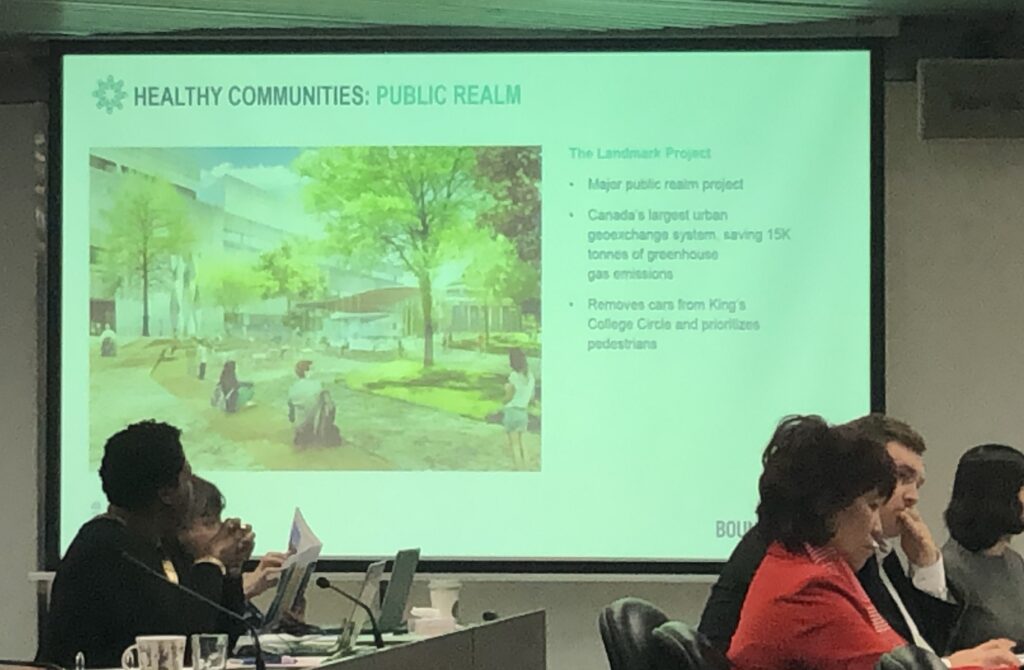 City of Toronto councillors recognized the University of Toronto's leadership, innovation and contribution to the prosperity and growth of the City at a meeting this January at Toronto City Hall.
"When we have a strong city, it helps to empower a strong university and the reverse is the case: When we have a strong university, it helps to fuel and empower a strong university," said Ward 10 Councillor Joe Cressy.
The meeting between the City of Toronto's Economic and Community Development Committee and U of T leaders highlighted the University's investments in addressing some of the City's primary challenges, including housing, greenhouse gas emissions, and supporting innovative companies that create high-quality jobs.
U of T is a global leader in the university sector in designing and building capital projects that prioritize excellent design and pedestrian safety, while reducing the university's environmental footprint , said Scott Mabury, Vice-President, Operations & Real Estate Partnerships.
"The University of Toronto benefits from being in this city and it contributes to the dynamism and overall attractiveness of Toronto, [a city] that is now competing for one of the best overall places to live and work and be on the globe," he said.
The University's work creating and recruiting talent, driving innovation and providing housing and public amenities helps the City achieve its goals, said Ward 21 Councillor Michael Thompson, who is also Chair of the Economic and Community Development Committee.
"We are quite aligned and the relationship is very strong," Thompson said.
Watch the discussion
The conversation occurred as the University is embarking on a series of capital projects that will transform how students, staff and faculty work, live and collaborate with each other and the wider community on the three campuses. Over the next decade, U of T will invest approximately $4.5-billion to grow its academic, innovation and residential spaces for students, faculty and staff.
Read more about the University of Toronto's plans
In its HousingTO 2020-2030 Action Plan, the City has recognized that meeting student housing needs is an important component of addressing the affordability of housing in Toronto
"We very much appreciate the work the Council is [doing] on the housing file. The recognition of student housing as social housing is tremendously important," Andrew Thomson, Chief of Government Relations at the University of Toronto, told the Committee
Universities' role in driving innovation in cities, connecting regions to each other and helping to address global problems is in focus around the world. U of T has joined 12 other leading research universities in North America in a coalition to reduce greenhouse gas emissions on their campuses.
Climate change is one of the first issues universities are tackling. U of T is one of the City's partners for the Green Will Initiative, which aims to reduce energy consumption in Toronto.
Even as the University will almost double its footprint, it will reduce its environmental impact, Mabury told the Committee. The University's Low-Carbon Action Plan sets the goal of reducing emissions by 37 per cent from 1990 levels, by optimizing how the university produces, distributes and consumes energy on its campuses.
A quarter of U of T's emissions reduction will occur through The Landmark Project, which will install Canada's largest geoexchange project under King's College Circle on the St. George Campus, while creating a significant new public space in the centre of Toronto.
The Low-Carbon Action Plan is just one example of the University's innovation, U of T representatives told City councillors. Whether in machine learning, precision medicine, fintech or clean-tech, U of T is a global hub for technology that will improve health care delivery, increase the efficiency and accountability of financial services, and transform established industries like manufacturing.
U of T has proven it has the ability to bring together public and private funders to drive growth of new sectors in Canada , a model that led to the Vector Institute for Artificial Intelligence, now home to over 400 researchers from Canada and abroad.
The discussion between U of T and the City of Toronto Economic and Community Development Committee is available here.