U of T brings together experts to address Canada's biomanufacturing gaps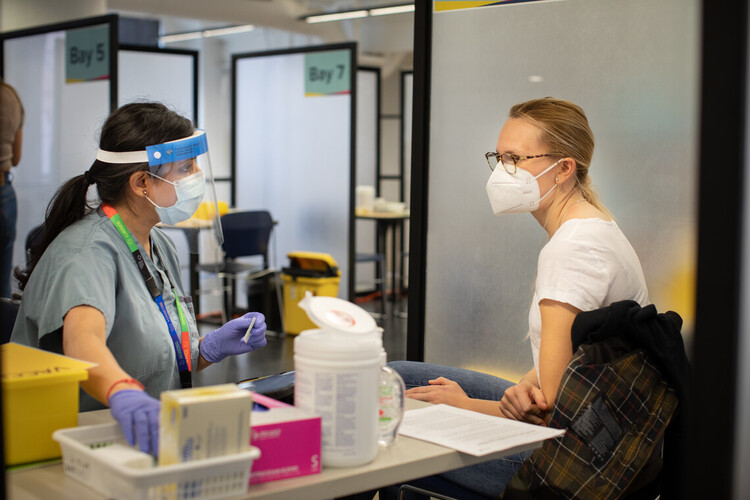 (UHN vaccine clinic at the St. George campus. Investing in biomanufacturing and bioinnovation is critical for increasing Canada's capacity to develop solutions to future health challenges.)
The University of Toronto is bringing together researchers, pharmaceutical innovators and government partners to address gaps in Canada's biomanufacturing ecosystem and discuss solutions for public health challenges such as COVID-19.
A Biomanufacturing Training & Innovation Workshop hosted by U of T recently drew nearly 100 attendees from academia, government and industry to discuss strategies and priorities related to biomanufacturing training, research and innovation, knowledge translation and infrastructure.
Participants said the ongoing pandemic has tested Canada's vaccine production capabilities and highlighted the need for a national strategy.
"I believe that we must not only build biomanufacturing capacity in this country, but also revitalize our life sciences ecosystem, such that our country will be able to face a future pandemic armed with the supports that we need to ensure the health security of Canadians."
The workshop aimed to identify key training and knowledge gaps that must be overcome for the advancement of Canadian biomanufacturing in areas such as digital manufacturing and engineering biology. It also sought to enhance connections between U of T's expertise, government strategies and industry working in the field.
Expertise and facilities at U of T – including the Containment Level 3 lab, which can handle infectious pathogens – have played a key role in testing COVID-19 treatments and other solutions. At the same time, the federal government is consulting widely on the investments necessary to expand biomanufacturing capacity and the related life sciences ecosystem.
(By Yanan Wang)
To find out more about the recommendations of the biomanufacturing workshop, read the report of the event:
https://gro.utoronto.ca/our_advocacy