Toronto Region Board of Trade podcast explores UofT's green infrastructure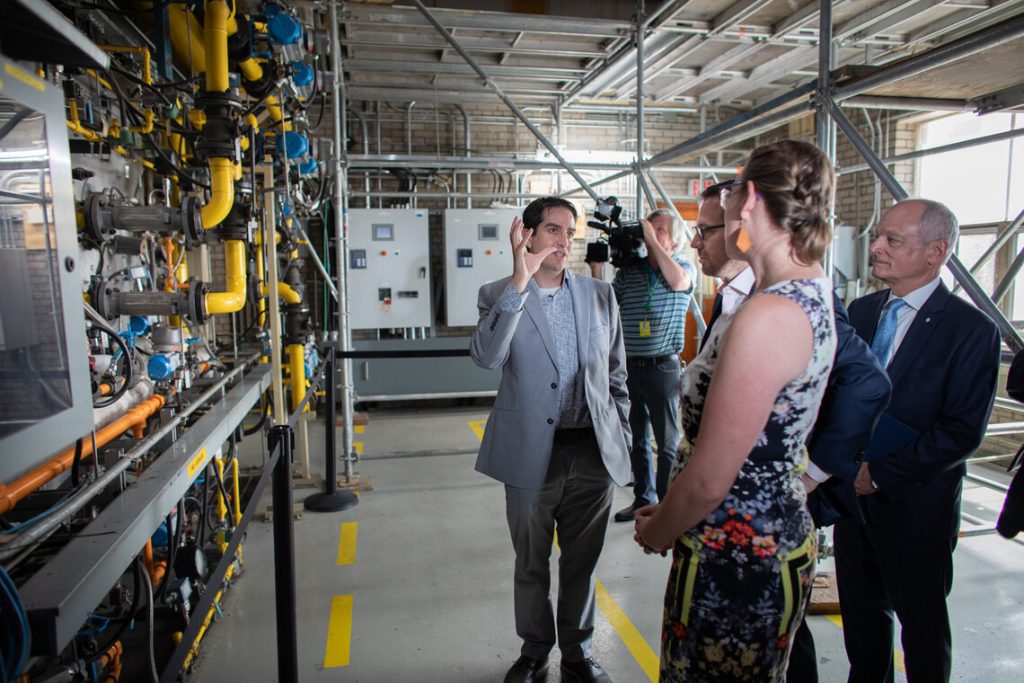 Buildings and transportation account for more than half of carbon emissions in Ontario. Investment in greening this infrastructure is one of the most effective ways to reach Canada's net-zero emissions by 2050 target.
Yet the positive returns for capital projects may be measured over decades rather than years. Developing and deploying new and innovative financing models is therefore critical to the success of green infrastructure projects. A recent partnership between the University of Toronto and the Canada infrastructure Bank provides a compelling model for others to emulate.
With a history reaching back almost two hundred years and a long future ahead, U of T is leading in this area. Aging buildings and a deferred maintenance backlog of almost $1 billion have incentivized the University to be at the forefront of initiatives that reduce greenhouse gas emissions and lead to energy cost savings.
U of T's projects to address climate change were in focus during a recent podcast featuring Scott Mabury, Vice-President, Operations and Real Estate Partnerships at U of T. He joined two other leaders in advancing green infrastructure in Canada: Tony Valeri, who is leading funding and government relations for ArcelorMittal Dofasco's Decarbonization Team, and Ehren Cory, the Chief Executive Officer of the Canada Infrastructure Bank.
"We are a university that plans to be here forever," Mabury said on the episode. "When we build, it is for a hundred years. That means buildings need to be repurposed every 50 years or so. That means we think about resilient infrastructure."
The episode is part of the Toronto Region Board of Trade's Hit Go series, a five-part podcast focused on the climate economy. Topics in the series include cleantech startups, electric vehicles and the infrastructure required to promote EV (Electric Vehicle) adoption, and financing models that overcome risk aversion to green investments among organizations and investors.
In focus during the episode was U of T's Project LEAP (Low Emissions Accelerator Project), which reduces emissions through a suite of energy retrofits, energy storage, and demand shifting at several locations on the St. George campus. The project's costs are being financed through a blended finance model that combines public financing from the Canada Infrastructure Bank (CIB), U of T funds, and a private lending institution (to be announced in coming months).
The CIB's support accelerated progress toward Project LEAP's target of a 50% reduction in emissions by a decade.
While the CIB and U of T financing is responsible for approximately half of the cost of Project LEAP, a private lender will be financing the remainder, Mabury said. Along with financial support, that lender is bringing technical expertise and experience to the table.
"When we went to market for our [private sector] partner, we said, "you know, we want to save about 45,000 tons of CO2 per year." Our private sector partner came back with, "oh, you can do so much better. We have some other ideas." So, we are going from saving 50 per cent of our emissions to 64 per cent, so an extra 9,000 metric tons of carbon.
"That would have cost us [much more] in other kinds of projects to gain those savings. But they brought innovation, some very creative thinking to the table. … We are doing all these projects through joint ventures with the private sector because we have skills and assets and they do as well, and the combination is delivering value for us."
U of T introduced financial instruments to reduce energy use on campus years ago, Mabury added. For example, a green revolving fund was developed to invest in measures that reduced energy consumption at Robarts Library and the Medical Sciences building. The energy cost savings are used to pay back the investment.
While U of T evaluates projects from a longer time perspective than other organizations, developing new and innovative financing models can help reduce the risk and cost of green investments for every organization, in the public and private sectors.
"Infrastructure assets are challenging economically … and that is where the CIB can come in and where we can help reduce the cost of a project through a loan that is long-term, patient capital, low-cost capital and risk-sharing capital," said Ehren Cory, the CEO of the CIB. For example, private lenders know that market demand for emissions reductions infrastructure such as EV charging stations, will grow in the future. But with uncertain returns from such investments, the perceived risk is a deterrent. By encouraging those investments now, the Bank is supporting the development of market demand.
The CIB's money "can be the bridge of that uncertainty and of that risk," Cory said.
The full episode is available through the Toronto Region Board of Trade or through other streaming platforms.
Photo: Through the launch of Project LEAP, U of T will use the CIB financing to complete deep energy retrofit projects – such as converting gas boilers to electric boilers and installing energy storage solutions – to reduce greenhouse gas emissions. Pictured (L-R): Ron Saporta, Chief Operating Officer, Property and Sustainability; Ehren Cory, CEO, CIB; MP Karina Gould and U of T President Meric Gertler (photo by Johnny Guatto).