Parks Canada unveils plaque marking 100 years of Insulin discovery at U of T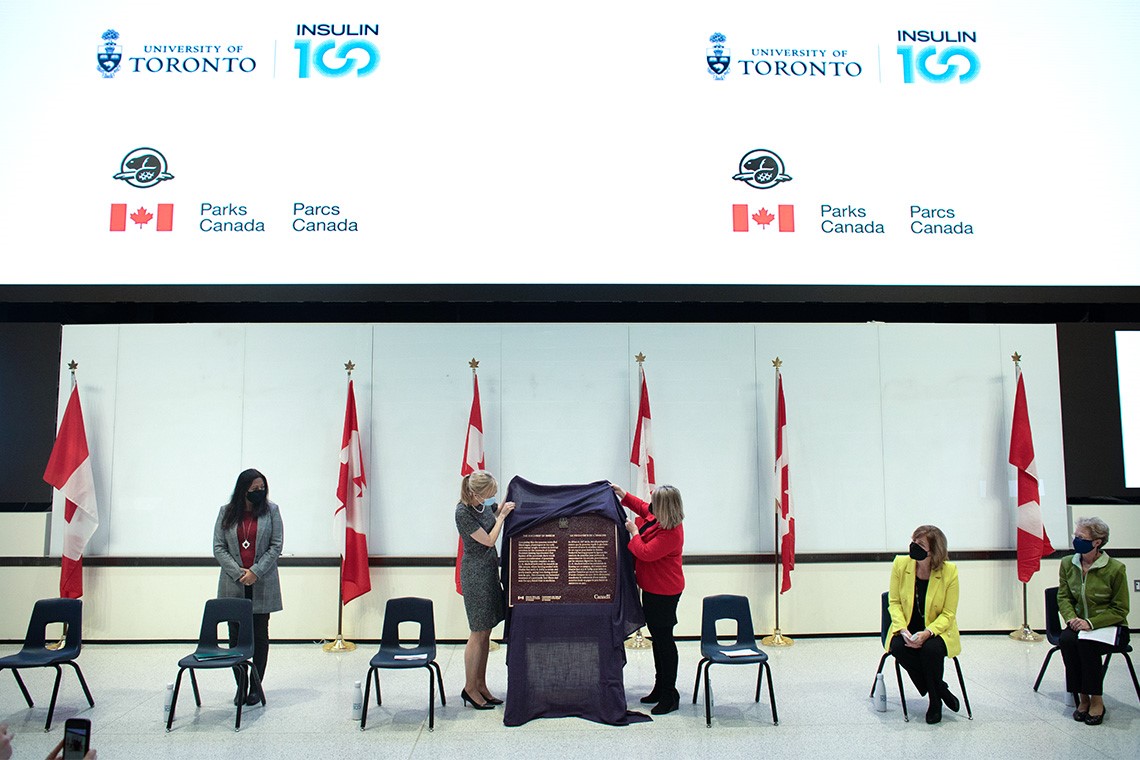 One hundred years ago this month, scientists at the University of Toronto and its partner hospitals carried out the first studies that demonstrated the ability of insulin to lower blood sugar levels in animals and prevent their death from diabetes.
Three months later, insulin was successfully administered to a person with type 1 diabetes at Toronto General Hospital. His life would become the first of millions around the world to be saved by insulin – one of the landmark medical discoveries of the 20th century.
On Friday, the historical significance of the discovery was marked by the unveiling of a commemorative bronze plaque at a ceremony hosted by Parks Canada and the Historic Sites and Monuments Board of Canada (HSMBC) at the Myhal Centre for Engineering Innovation & Entrepreneurship on U of T's St. George campus.
The event was attended by government dignitaries including Sonia Sidhu, member of parliament for Brampton South. The final location of the plaque, which is inscribed by bilingual text, will be determined at a later date.
"The story of insulin is a brilliant example of the power of collaboration – in this case, how a university, its hospital partners and a pharmaceutical company could work together and change the world," said Christine Allen, U of T's associate vice-president and vice-provost, strategic initiatives.
"On this illustrious foundation, U of T and its hospital and industry partners built a culture of discovery, innovation and collaboration that has transformed health care and continues to have a ripple effect worldwide.
Read more (Rahul Kalvapalle)