Minister Ahmed Hussen tours U of T's dental clinics, discusses national plan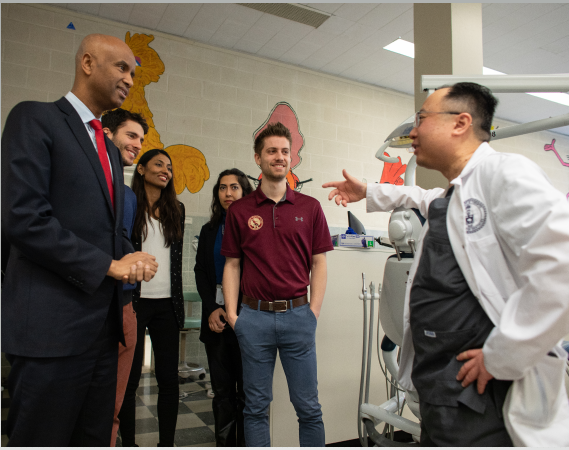 The Faculty of Dentistry's commitment to access to dental services for all populations can help support the new Canadian Dental Care Plan, said Minister of Housing and Diversity and Inclusion Ahmed Hussen last week during a visit to the Faculty's dental clinics.
The visit followed the announcement in this year's federal budget of multiple measures to improve access to dentistry in Canada, including the launch of the Dental Care Plan. Once the plan is fully phased in, all families without insurance and a family income of up to $90,000 are expected to receive care.
U of T's clinic, the only dental school in the country to offer all 10 dental specialities, has been closing the gap in access to dental care for the past 50 years. The clinic serves approximately 15,000 patients a year and saw 93,000 patient visits last year. More than 400 Doctor of Dental Surgery students and 80 dental specialist graduate students receive training in working with vulnerable populations. Services are provided at lower cost than in private dental practices.
"The University of Toronto's Faculty of Dentistry is a critical component of the dental safety net system to everyone in our communities," said Professor Jim Yuan Lai, Vice-Dean of education at the Faculty of Dentistry. "Through our clinics, we are closing the gap in dental care for the one in five Canadians who face barriers to access and preventing poor health outcomes that can lead to more expensive interventions."
The Faculty of Dentistry's dental clinics also accept patient referrals from private dental practices. Information on becoming a patient is available on their website.
Minister Hussen visited several learning clinics operated by the Faculty and spoke to students about how their training prepares them to attend to the health needs of vulnerable populations. The new national plan could increase the number of patients who receive services through the clinics, he said.
"This is amazing work that is being done here, and as the federal government, we want to make sure this work is supported, and one of the ways to do that is to empower and enable more people to access this wonderful service.
"That's why we are proud to introduce the Canadian Dental Care Plan, which will provide coverage for up to nine million uninsured Canadians when fully implemented. With this plan, no Canadian will ever again have to choose between maintaining their oral health and paying their bills," Minister Hussen said.
A survey conducted by the faculty in the summer of 2021 showed that 83% of patients seen at the clinics earn less than $50,000; are twice as likely to report food insecurity; and are a third less likely to have dental insurance compared to other Canadians. Sixty percent of patients polled reported avoiding dental visits due to cost. Patients visiting the clinics came from across the Greater Toronto and Hamilton Area including Toronto, Peel, York, Durham, and Halton.
Patients who come in may have multiple issues that have been neglected, said Dave Dunbar, a fourth-year student in the program.
"People often come in with complex cases and you have the opportunity to learn a lot and provide a big improvement in their quality of life, in their eating and speaking and socially," said Dunbar, who is President of the Dental Students' Society. "These clinics are imperative to providing health care in this city, where there is a high immigration rate and a big discrepancy in access to care. Our clinics help to bridge that gap significantly."
In addition to the clinics at the Faculty, dental students gain experience through rotations at the Centre for Addiction and Mental Health, Toronto Public Health Clinics, and youth – focused community-based clinics.
The Faculty is looking to increase the number of patients so that students have exposure to the full range of services and needs they will encounter after graduation, Lai said. This is an area of potential collaboration with the federal government, he added.
As well as launching the Canadian Dental Care Plan, the federal budget introduced the Oral Health Access Fund, which proposes to provide $250 million over three years to remove barriers to care, including in rural and remote communities, and investments in collecting and analyzing better data on dental care.
(Photo:  Minister of Housing and Diversity and Inclusion Ahmed Hussen, speaking with Faculty of Dentistry students and Professor Jim Yuan Lai, Vice-Dean of education at the Faculty of Dentistry. / Photo credit Johnny Guatto)