Minister's Awards of Excellence recognize U of T's impact in Ontario
University of Toronto professors, researchers and graduate students have won multiple Minister's Awards of Excellence, recognizing their significant contribution to postsecondary teaching and research in Ontario.
The awards celebrate leading and emerging educators, researchers and change-makers at universities and colleges. The Ministry of Colleges and Universities (MCU) received 540 nominations from across Ontario. An awards celebration event was held this week with Minister Jill Dunlop and the winners, including several from U of T.
"Congratulations to all of the recipients from the University of Toronto who took home a Minister's Award of Excellence. The incredible achievements of the winners benefit Ontario's students and communities across the province," said Minister Dunlop. "They are not only carrying out ground-breaking research to advance new discoveries and preparing students with the skills that meet the demands of the job market, they are helping to promote new business opportunities across Ontario."
Launched in 2020 to recognize postsecondary leaders who worked to address and mitigate the impact of the COVID-19 pandemic, the awards now showcase the impact of universities and colleges in five categories. The University of Toronto was the only institution with winners in every category.
"Our teaching and research community is inspiring students in the classroom, collaborating with community groups and industry, and solving on-the-ground problems. We are gratified that the Minister of Colleges and Universities has recognized the dedication of our professors and emerging researchers and the contribution they make to Ontario," said Cheryl Regehr, vice-president and provost at the University of Toronto.
Photo caption: Minister Jill Dunlop, Minister of Colleges and Universities, announcing the annual Awards of Excellence.
A full list of winners is below:
Everyday heroes: Faculty and staff who stepped up and made a difference during the 2021 – 22 academic year
Dr. Jennifer Bethell, Institute of Health Policy, Management and Evaluation.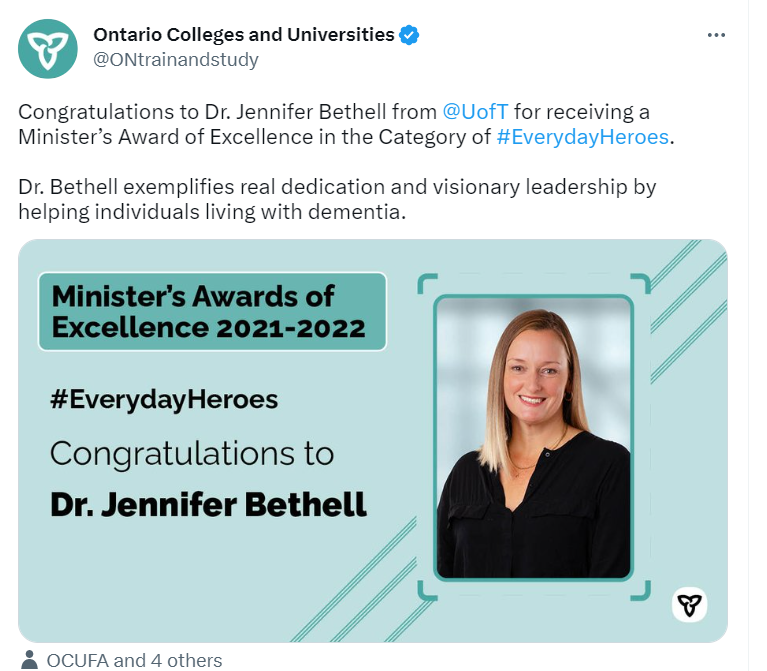 As an epidemiologist and health services researcher, Dr. Bethell is interested in using large health administrative and survey datasets for research and reporting on health outcomes. To date, her work in this area has been focused on topics related to mental health, injuries and prescription medication use and how these issues influence health across the life course. She is also interested in patient engagement in research, particularly research related to dementia, and has been co-leading the Engagement of People with Lived Experience of Dementia (EPLED) program within the Canadian Consortium on Neurodegeneration in Aging (CCNA). Her research interests also include social connection, older adults and long-term care settings.
Prof. Chelsea Rochman, Assistant Professor, Department of Ecology & Evolutionary Biology and Co-founder U of T Trash Team
The U of T Trash Team is a science-based community outreach organization made up of undergraduate and graduate students, postdocs, researchers, local volunteers and staff all working together with a common goal to increase waste literacy in our community while reducing plastic pollution in our ecosystems. The team was founded in 2017 in collaboration with the Rochman Lab and is part of the Department of Ecology and Evolutionary Biology.
Future – proofing Ontario's students: Faculty and staff who have led the way in adapting programs that support new ways of learning
Dr. Amanda Binns, Clinical Investigator, Bloorview Research Institute;
Speech-Language Pathologist, Holland Bloorview Kids Rehabilitation Hospital; Education Investigator, The Institute for Education Research, UHN; team leader for award.
Dr. Amanda Binns is a clinician, researcher, and educator in the field of Speech-Language Pathology. In her role at Holland Bloorview, she is clinical lead of an innovative virtual student-led environment that is working in partnership with clinicians, families and autistic children in Northern Ontario.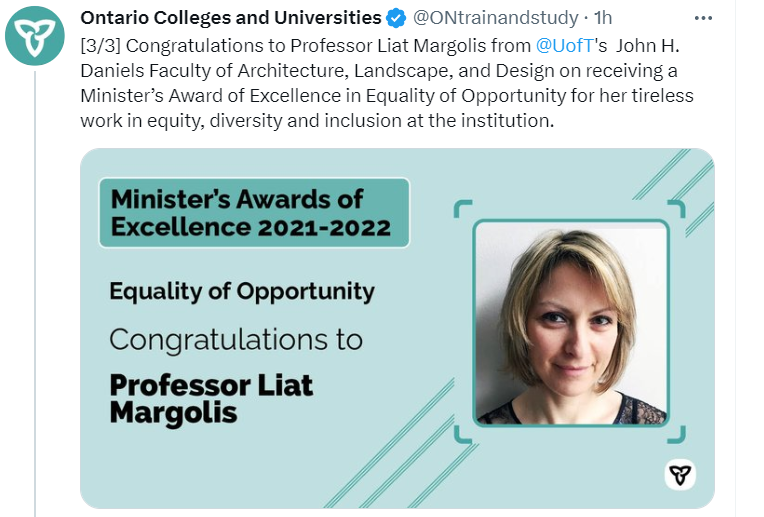 Equality of Opportunity: Faculty and staff who have excelled at creating opportunities in postsecondary education for marginalized and underrepresented groups
Liat Margolis, Associate Professor of Landscape Architecture at the John H. Daniels Faculty; Director of the Faculty's Green Roof Innovation Testing Laboratory (gritlab), faculty leader in equity, diversity and inclusion.
Liat Margolis is a leader in the John H. Daniels faculty in Equity, Diversity and Inclusion and was the person responsible for leading the Daniels Faculty in addressing the mandates of the Federal and University responses to Truth and Reconciliation.
She helped the interim Dean to establish the position of First Peoples Advisor to the Dean to answer U of T TRC call to action #11, and facilitated conversations with First Nations House, Office of Indigenous Initiatives, and Director of Indigenous Studies / Academic Advisor to Provost
Professor Margolis also established an Indigenous undergrad student award (tuition, plus room and board) renewable for four years (25,000 per year, a total of $100,000 per student).
In 2020, she established an Anti-Black Racism and Inclusion Advisory Board to review and discuss curriculum, public programming, recruitment, engagement with communities, building connections and exposure to African voices and places.
Since 2018, she co-founded Indigenous Youth Employment and Pathway to Post-Secondary Access Program in Collaboration with Elder Whabagoon. The program employs a full-time Elder, four support staff and up to 10 youths per year, providing honorariums for two dozen Indigenous knowledge keepers, academics, and professionals. The program engaged 15 youths, with several joining the programs for 2-4 consecutive years. One youth started her first year at the Daniels Faculty undergrad program in the Fall of 2022 (with a full scholarship which we advocated for), while others are pursuing postsecondary education at other universities in Ontario.
Photo Credit: Kasia Peruzzi
Innovation and Entrepreneurship: Faculty and staff who are working with industry and business to drive economic development
Dr. Elaine Biddiss, senior scientist at Holland Bloorview Kids Rehabilitation Hospital and Associate Professor in the Institute of Biomedical Engineering at the University of Toronto.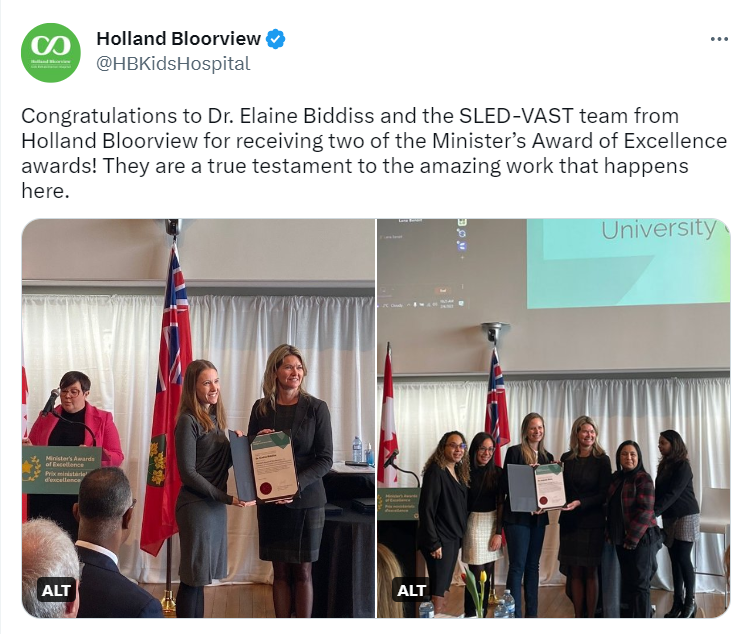 Dr. Biddiss leads the PEARL Lab (Possibility Engineering And Research Lab) as a Senior Scientist at Holland Bloorview Kids Rehabilitation Hospital and is the founder of Pearl Interactives. The PEARL Lab is a highly interdisciplinary and user-centred lab which develops accessible virtual reality therapies and interactive play spaces for youth in healthcare environments. Within her lab, Dr. Biddiss leads a team of research staff, students and trainees from varying backgrounds including engineering, design, and allied health professions.
Dr. Biddiss runs a stellar research program, most recently awarded an outstanding two CIHR Spring 2022 Project Grants valued at over $1M. These projects explore novel patient focused models of care – one, a virtual assessment for children with CP, and the other, a sport-like concussion assessment. Dr. Biddiss' core research values are innovation, clinical impact, evaluation, and translation. These values are clearly highlighted in her work with Pearl Interactives. Born out of Dr. Biddiss' research program and incorporated in 2021, Pearl Interactives develops accessible, award winning, and evidence-based innovations that empower children and their families. Their flagship product, Bootle Blast, is a movement-tracking video game that promotes motor skill development, playfulness, and well-being for use in clinical and home settings. Recent awards received by the team include the Dr. John Whittaker Memorial Award for Dr. Biddiss' Bootle Blast (2021) and the inaugural OBI NERVE Award (2022) for Pearl Interactives as a whole.
Rising Star: Graduate students, faculty and staff who are under 35 and are making a difference in education, inspiring students or carrying out innovative research in the postsecondary education sector
Negar Balaghi, Institute of Biomedical Engineering, PhD Candidate, member Quantitative Morphogensis Laboratory.
Douglas Chung, PhD Candidate, Cancer Immunology & Immunotherapy, University Health Network, member Ohashi Lab, Where Immunology Research meets Innovation.
Jonathan Hood, PhD, U of T Kinesiology, former CFL athlete, motivational speaker, youth mentor, corporate coach and business owner.
Anson Lau, PhD Candidate, Institute of biomedical engineering; Department of Immunology; member of the OFK Lab, creating RNA technologies to cure diseases and solve bioengineering challenges.