U of T explores expanding sustainable homes for students, faculty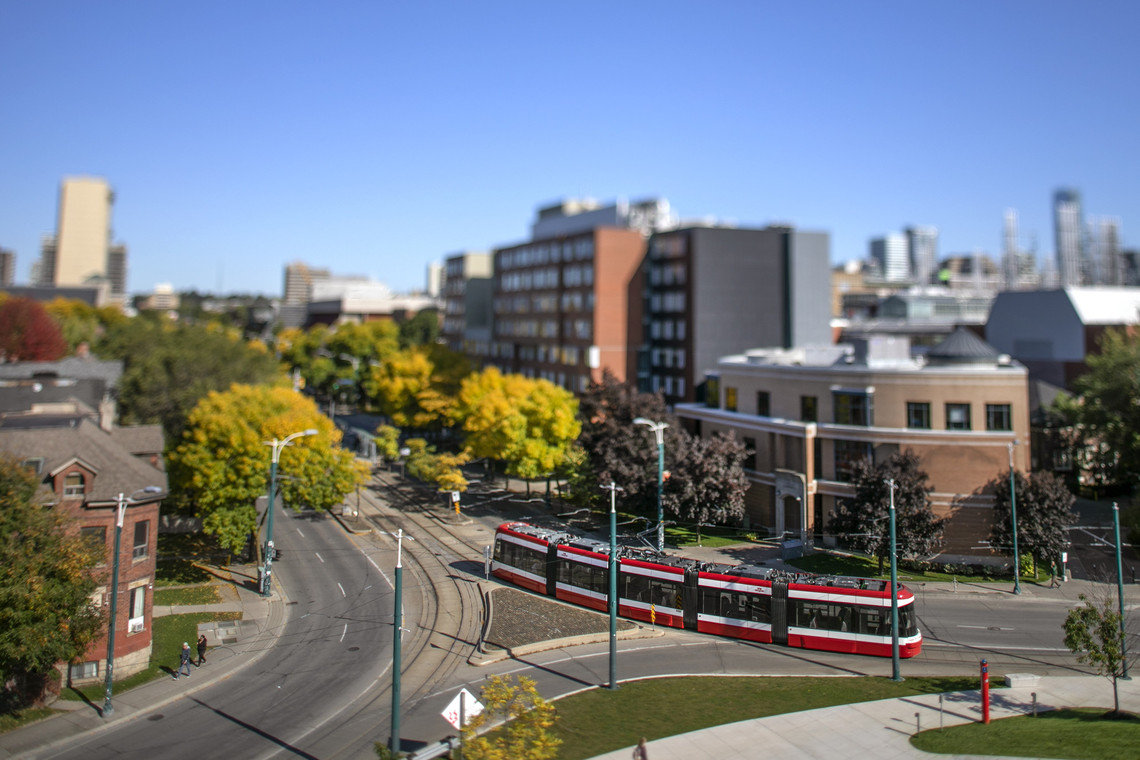 The University of Toronto is in the early stages of exploring how the northwest corner of the St. George campus can be revitalized to provide much-needed and attainable university housing, including academic and amenity space – all while supplying carbon-friendly energy and advancing Indigenous place-making.
The proposed development of "Site 1" – bounded by Bloor Street West, Spadina Avenue, Huron Street and Washington Avenue – would provide hundreds of apartment-style units for students, faculty and staff, as well as their families. It would also provide academic space for the Ontario Institute for Studies in Education (OISE) and the School of Continuing Studies, and would continue to host the University of Toronto Schools, which is a current occupant of 371 Bloor West.
Envisioned as a major gateway into the northwest quadrant of the St. George campus, the proposed development also aims to better link the university with the surrounding neighbourhood and provide more open spaces for community-geared activities.
Scott Mabury, U of T's vice-president, operations and real estate partnerships, said the Site 1 project exemplifies U of T's Four Corners Strategy, which seeks to advance the university's mission to build much-needed university housing and innovation space while also contributing to the university overall and enhancing the vitality of city life.
"This site, located at a prominent downtown intersection, represents a unique opportunity for U of T to help address its growing need for housing, provide renewed academic space and enrich the surrounding neighbourhood," Mabury said.
He added that the site would also house an energy centre and electrical distribution hub that would make important contributions to U of T's ambitious goal of achieving a climate-positive St. George campus by 2050.
"This site serves as an ideal location from which to supply the northwest quadrant of the St. George campus with energy derived from high-efficiency, zero-carbon technologies," he said. "As such, it will play a vital role in helping us meet our greenhouse gas reduction targets."
The project is currently in its nascent stages and has not yet gone to the university's Governing Council for consideration. Consultation is underway through a working group – led by the local city councillor and involving neighbourhood associations, student groups and campus stakeholders –as the university seeks early input on how the property can advance the university's mission while supporting local planning goals and reinforcing the neighbourhood's character.
Due to the complexity of the project, the university plans to seek the expertise of the development industry to help support its project delivery and aims to select a development partner this summer. Selection of the design team will follow in late 2022 or early 2023 and there will be ongoing consultation throughout the design phase leading to the project's development application and municipal approval process. It is expected that construction on the project could begin near the end of 2024 and be completed by 2028.
Shannon Simpson, U of T's director of Indigenous initiatives, said the project will establish an engagement process to help members of the Indigenous community share their thoughts on how design choices, landscaping and common spaces can be harnessed to foster Indigenous acknowledgement and placemaking at the site.
"There was a time when the Indigenous community wouldn't be brought into conversation early enough – so we would have ideas, but it would be too late to implement a lot of them," she said. "Now, people at U of T are really embracing bringing us into the conversation early on."
To that end, Simpson said First Nations House is being engaged to help amplify student voices while consultations are also being planned with Indigenous faculty, staff, Elders and Knowledge Keepers.
She noted the commitment to Indigenous engagement is important given that the Bloor and Spadina area is home to the Native Canadian Centre of Toronto, Toronto Aboriginal Support Services Council, Wigwamen Terrace housing and the Spadina Road branch of the Toronto Public Library – reputed for its strong collection of Indigenous literature.
"It's a little piece of Indigenous community in Toronto, so it's a special corner," Simpson said, adding that the proposed redevelopment stands to benefit both Indigenous Peoples and the broader U of T community.
"Whether if it's a common room or study space that's named after one of the Indigenous host territories, or a bench that has elements of Indigeneity, or native plants and medicines in and around the area – those kinds of things are important and meaningful for Indigenous students," Simpson said. "The Indigenous community will obviously, 100 percent benefit from that, but I think everyone – every student, staff, faculty and community member – will benefit from being a part of these spaces.
"So, I don't think it's something that U of T or the City of Toronto are just doing for the Indigenous population. It really is for everyone."
At present, Site 1 envisions the construction of two taller residential towers that would be integrated with the heritage building at 371 Bloor Street West. With 600 to 700 apartments ranging from one to three bedrooms, the new buildings would help meet the growing demand for attainable university housing – accommodation that enables U of T community members and their families, including those coming from abroad, to live close to campus without having to participate in the competitive Toronto housing market.
While housing arrangements are crucial for students, they are also important for faculty members making the transition to U of T and Toronto.
"The fact that the university is able to provide some new faculty with a place to live as they take up their research and teaching at U of T enables them to embed themselves immediately in the community they are joining," said Melanie Woodin, dean of the Faculty of Arts & Science, which is U of T's largest faculty.
"Just as with students, faculty members living on campus will have the opportunity to absorb the vibrant energy of the U of T community and reap the benefits of being steps away from their home departments, their peers and colleagues, and the students they can expect to engage with daily."
(By Rahul Kalvapalle)