Turbocharging Canada's Competitiveness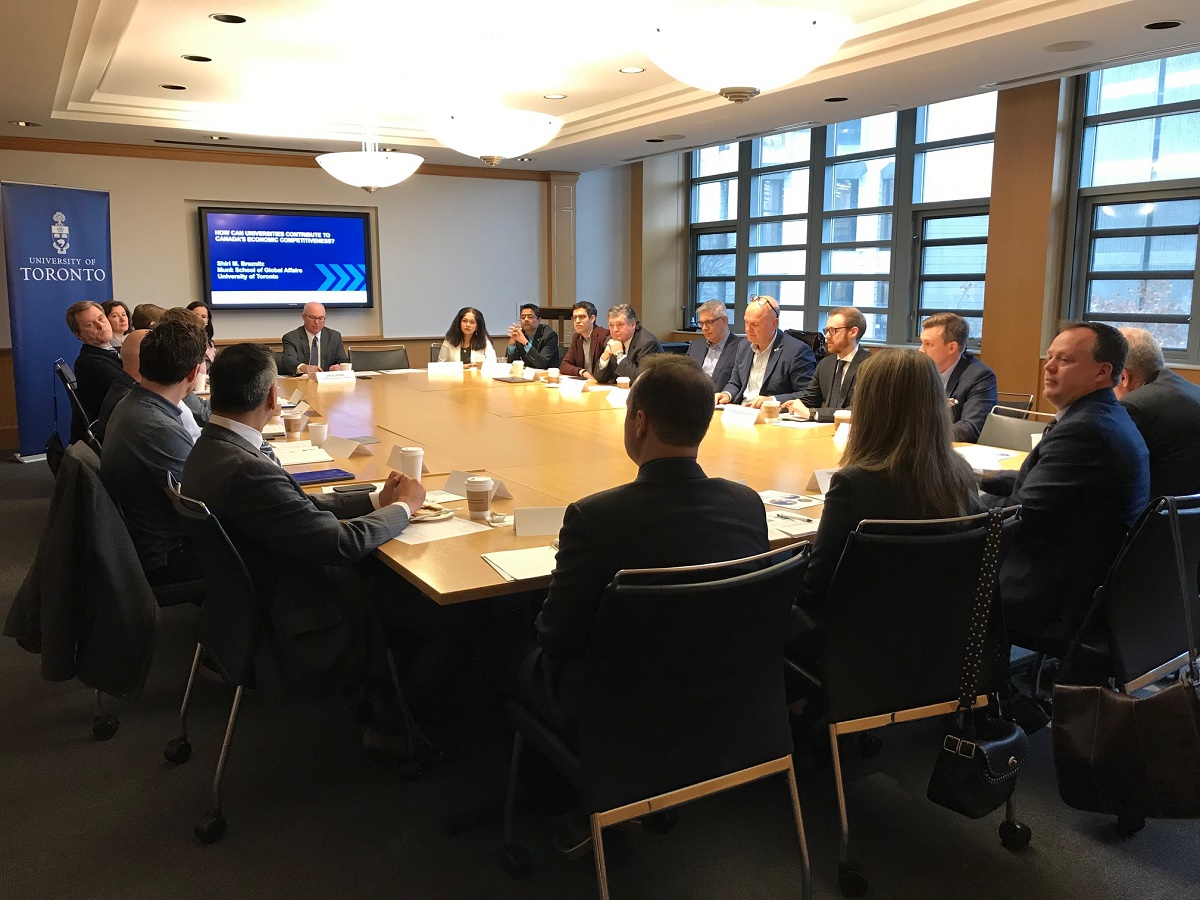 Ambitious targets and a shared vision – that's what Canadian governments and companies need to accelerate the country's global competitiveness, a public policy forum held at the University of Toronto concluded this week.
"Turbocharging Canada's Competitiveness," co-sponsored with the Canadian Chamber of Commerce, included 20 leaders from leading companies, think tanks, and start-ups. General Motors Canada, Next Generation Manufacturing Canada (NGen), the Toronto Region Board of Trade and Capstone Networks Inc. were among those represented. The forum heard from Shiri Breznitz, Associate Professor at the Munk School of Global Affairs and Public Policy; Jayson Myers, the CEO of NGen, and Daniel Munro, the Director of Policy Projects at the Munk School's Innovation Policy Lab.
The conversation occurred against the backdrop of the continuing work of Canada's five advanced superclusters. They're designed to supercharge collaboration between business and post-secondary institutions to transform innovation ecosystems and create new economy jobs. The University of Toronto is a partner in the Next Generation Manufacturing Supercluster.
Here are the forum's five key points:
Universities can help address Canada's scale-up challenge: Canada is a North American leader in start-ups – including an increasing number that are born kick-started on university campuses. The University of Toronto, for example, has been home to over 500 start-up companies over the past decade. But the country has relatively few companies that grow to be valued at over $50-million, Breznitz said. To address the scale-up challenge, companies need a network of trusted and expert advisors who understand their business and can offer advice on how to meet and anticipate market needs. For example, Canadian partnerships could look to models like the Massachusetts Institute of Technology's Consortia which has studied future mobility patterns; Israel's Magnet which promotes collaboration among manufacturing companies developing new advanced products, academic researchers and foreign private sector observers; or Canada's own Interact collaboration among scientists, urban planners and citizens.
Canadian firms need to boost their investment in intangibles: Intangible assets are made up not of physical assets or resources, but data that takes the form of brands, intellectual property, and employee training and development. Around the world, business investment in "intangibles" is growing. That is also the case in Canada, but at a slower pace. Yet to boost productivity, Canadian companies need to match or exceed global trends.
Data will drive the competitiveness of every industry: New economy sectors are driven by data, from machine learning applications in sectors ranging from health-care to transportation. But data increasingly matters to every sector of the economy, including advanced manufacturing and agriculture, said Jayson Myers. To reap the productivity and innovation gains of digital technology, however, companies' employees and management have to develop the skills to make the most of digital opportunities.
To grow markets, address inequality: Inequality is a barrier to innovation, said Daniel Munro. If individuals cannot develop the advanced capacities and skills required to work in the new economy, cutting-edge companies will face talent shortages. On the other hand, an equitable distribution of income expands the market for new products and processes and supports companies' efforts to innovate.
The world does not know Canada's innovation story: Whether in advanced manufacturing, precision medicine or artificial intelligence, Canadian innovation is a global powerhouse. Yet Canada's stories of innovation are not well known outside of our borders. Marketing those successes has the potential to attract new international collaborations, investment, and open new markets.