Canada has turned AI research strength into jobs, new firms, report finds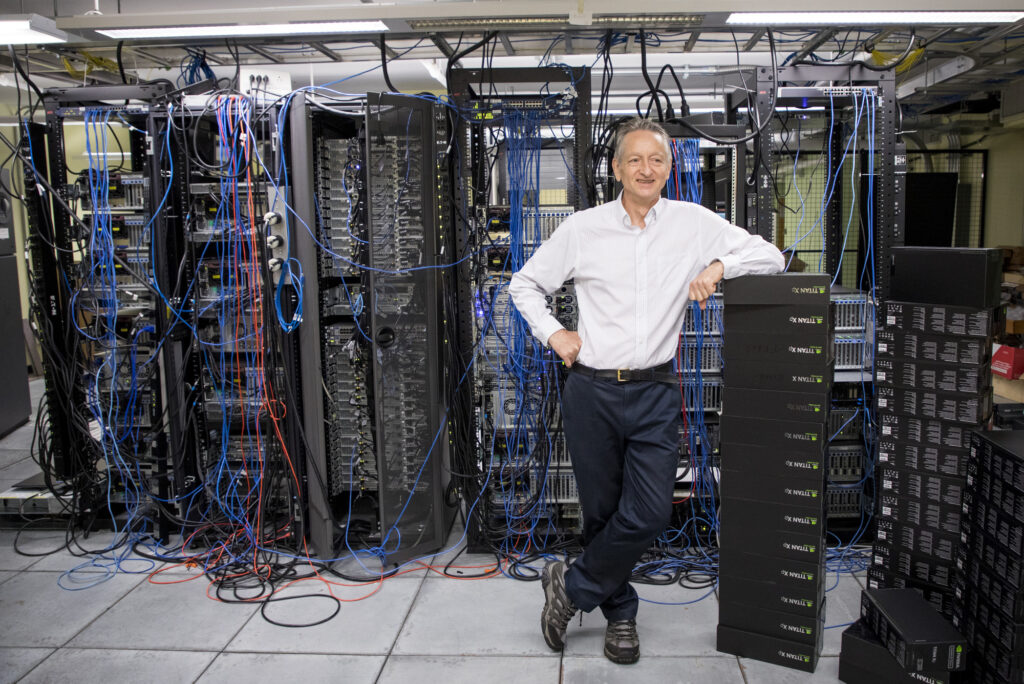 Canada's artificial intelligence sector is fuelling innovation, job creation and private sector investment – and University of Toronto researchers and entrepreneurs are playing a central role in that success, according to a report based on data compiled by Ottawa's Global Advantage Consulting Group.
The report, prepared by U of T, found that Canada's unique combination of public investment, private capital, research capacity and talent has generated over 50,000 jobs and attracted nearly $3 billion in investment since 2010, with the number of active AI firms in Canada doubling to more than 670 since 2015.
U of T alone has produced 81 active AI startups, according to Global Advantage, a research and analytics firm that provides ecosystem mapping and analysis services to private and public sector clients. In total, AI-powered startups connected to U of T have raised $183 million in funding and created over 600 jobs in the last five years, the report says.
Vivek Goel, U of T's vice-president, research and innovation, and strategic initiatives, says the report offers further evidence of the success of the federal government's Pan-Canadian AI Strategy, launched in 2017 with a $125-million commitment over five years.
"Canada, and Toronto in particular, have long been recognized as global hubs of AI research thanks to the pioneering work of people like [U of T University Professor Emeritus] Geoffrey Hinton, but in the past many people trained in U of T's machine learning group ended up going abroad to work for big tech companies," says Goel.
"This report shows that the Pan-Canadian AI Strategy has helped create the conditions necessary to retain that talent in Canada – presenting opportunities to be involved in further research and training – so we can have the talent supply needed to fuel Canadian research, innovation and application in business sectors."
As an example, Goel cites the impact of the Vector Institute for Artificial Intelligence, launched three years ago with $50 million in support from the government of Ontario and another $80 million from industry partners, in "taking what was happening in the university, connecting it with the business community and getting it out into the marketplace before people in other countries could do it."
The investment in Canada's AI research foundation is now yielding important applications and advances in the fight to contain and treat the COVID-19 virus. A few of the research projects detailed in the report – titled Canada's AI Ecosystem: Government Investment Propels Private Sector Growth – include:
Health-related AI applications have drawn particular interest from private sector investors, with over 15 per cent of AI-related private investment between 2015 and 2019 going to companies operating in health care and related areas like cloud computing and cybersecurity.
Deep Genomics, an AI-powered drug discovery startup co-founded by U of T Professor Brendan Frey of the Edward S. Rogers Sr. department of electrical and computer engineering in the Faculty of Applied Science & Engineering, is one of many AI startups in the health-care space. The company has so far raised $61 million, including a recent $40-million Series B financing, as it works to develop a drug candidate for Wilson disease, a rare and potentially fatal genetic disorder, based on calculations performed by its systems.
U of T startups are also applying AI to a variety of other problems, from medical imaging to quantum computing and consumer research. The report underlines that Canada is an innovation leader in the AI sector, producing the most AI patents per million people among the G7 countries and China, while Toronto "has attracted the densest cluster of AI startups in the world."
Blue J Legal, a Toronto startup co-founded by three members of U of T's Faculty of Law, uses AI to predict the outcomes of tax and employment law cases. The company launched its Canadian tax law product in 2017 and employment law offering in 2018. In 2019, it expanded into the U.S. tax law market, where it has already secured more than a dozen law firms as clients.
Both Blue J Legal and Deep Genomics emerged from U of T's expansive entrepreneurship ecosystem, having received early support from CDL and UTEST – two of U of T's many startup accelerators.
Several of U of T's AI startups will be in focus this week during Collision at Home, the online edition of one of the world's fastest-growing tech conferences, which draws speakers, entrepreneurs, inventors, investors and business leaders from around the world. The event is being held virtually this year because of the COVID-19 pandemic. But U of T entrepreneurs, researchers and students will still have a major presence, with more than two dozen U of T startups scheduled to participate.
June 23, 2023
(Thanks to the pioneering work of researchers like U of T's Geoffrey Hinton, Toronto has emerged as a hub of AI innovation in a range of fields, including the global fight against COVID-19. Photo by Johnny Guatto.)