U of T's research and equity initiatives address business concerns in Ontario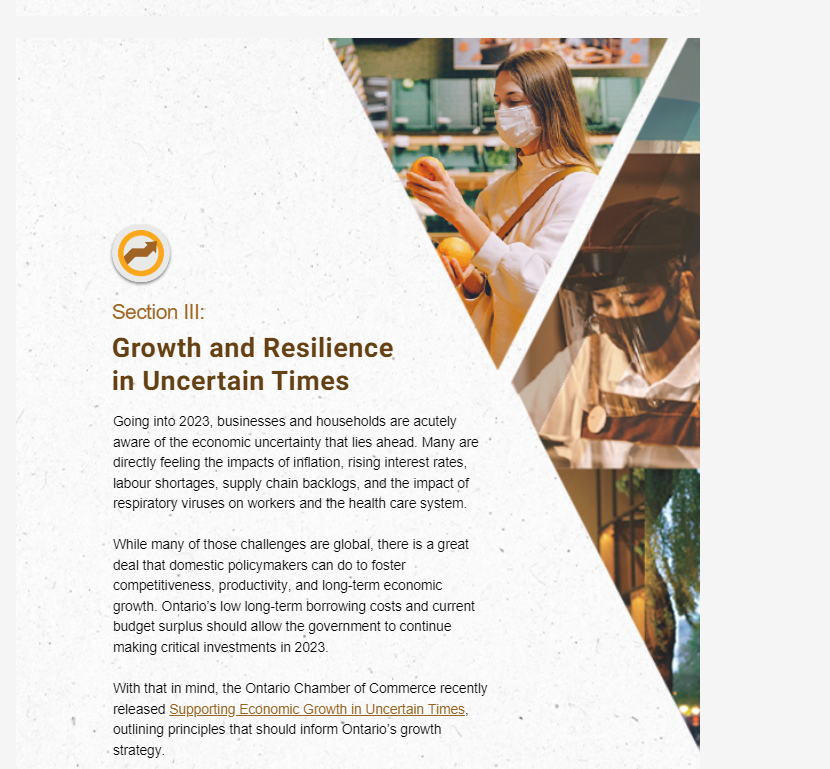 Released on February 1, the Ontario Chamber of Commerce's (OCC) 7th annual Ontario Economic Report (OER) finds that businesses are looking for support and investments in workforce talent development to overcome economic uncertainty.
Despite COVID-19 restrictions easing in the past year, the OCC's survey revealed that business confidence hit a record low in 2022. Only 16% of organizations reported feeling confident in Ontario's economy – down from 29% in 2021. The report draws on over 1,900 responses to the Ontario Chamber's annual Business Confidence Survey (BCS).
Labour shortages were a concern for more than half of respondents. When asked what government can do to support their resilience and growth, investing in workforce development initiatives (retraining, micro-credentials, and education) was one of the top two policy priorities identified.
With more than 250,000 postsecondary credentials awarded every year, universities and colleges in Ontario play a critical role in ensuring the province has the talent required to navigate the future economy.
While economic concerns are in focus in the Report, employers and organizations continue to be committed to advancing the foundations of a resilient society, including addressing climate change, reconciliation, and mental health. When asked whether sustainability or climate action is a priority, two-thirds of respondents agreed.
This sentiment is higher among post-secondary institutions (76%) and non-profits (70%). With respect to reconciliation, post-secondary institutions, non-profits, publicly traded companies, and businesses with diverse leadership were significantly more likely to report taking action.
Another top 10 priority for employers is improving access to employee health and well-being programs, with 78% of employers agreeing it is important to their organization's success.
These findings resonate with U of T's efforts in recent years, which include:
Actions to become climate positive. This goal begins with a significant infrastructure transformation already underway at the St. George campus. A $56-million investment from the Canada Infrastructure Bank announced in 2022 is helping accelerate the University's plans.
Commitment to climate change research through Climate Positive Energy – an Institutional Strategic Initiative (ISI) created to marshal the significant research taking place at the University to help solve climate change. This initiative includes 120 multidisciplinary faculty members from 29 divisions and 200 graduate students across the tri-campus.
Establishment of an Indigenous Research Network (IRN). This ISI brings together Indigenous researchers across the tri-campus, with the goal of ensuring these scholars have the resources and supports needed to thrive. The IRN was created as part of U of T's commitment and response to the Calls to Action of the Canada's Truth and Reconciliation Commission Report and the Final Report of the Steering Committee for the University of Toronto Response to the Truth and Reconciliation Commission of Canada.
Establishment of the Inlight Student & Youth Mental Health Research Initiative. This ISI is committed to improving student mental health and wellness by investing in high-quality, impactful research and driving scalable research innovations. Launching Inlight was one of the recommendations identified by the Presidential and Provostial Task Force on Student Mental Health in 2019.
Learn more about U of T's ISI portfolio.