Canadian Robotics Council report charts a path to growth for the sector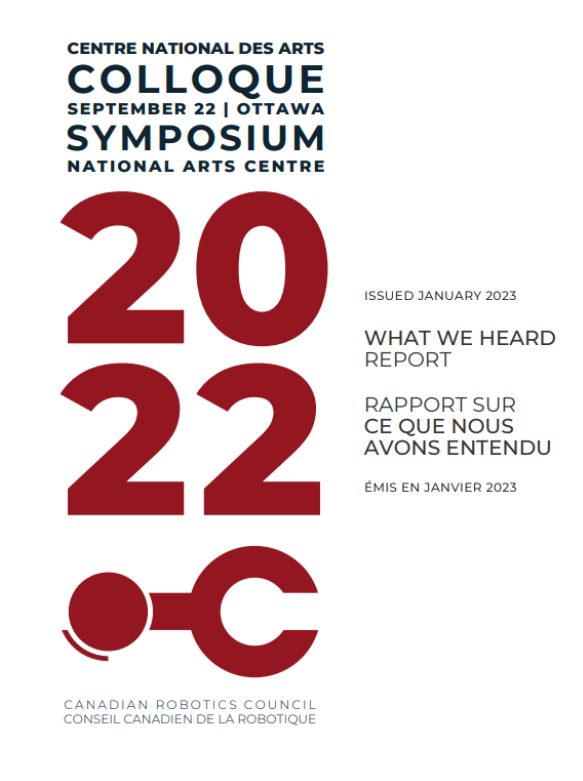 The robotics industry has the potential to drive a new era of innovation in major industrial sectors in Canada and Ontario, including the auto industry, logistics and transportation, and agriculture, a new report from the Canadian Robotics Council (CRC) argues.
Historically lagging rates of domestic robot adoption have led robotics companies to focus their growth strategies on export markets.  Improving robot adoption rates among SMEs in Canada would  diversify Canada's robotics companies' customer base and lead to increased productivity among Canadian firms, the report states. Canada currently ranks 18th in robot adoption compared to peer nations. 
Current generation robots are less expensive, lighter-weight, safer to interact with, are easier and faster to program. These features make it feasible for SMEs to deploy robots into existing work environments and to quickly realize a return on their investment. 
Entitled "What we heard," the report synthesises the expert views of over 80 participants from industry, academia, and government who attended the first symposium of the CRC in Fall 2022. The purpose of the symposium was to build a collective understanding of the challenges facing Canada's robotics firms and to identify next steps to drive growth in economic sectors including and beyond advanced manufacturing.
The CRC's mission is to help Canadians benefit from robotics technologies that are poised to fuel economic development and global competitiveness, productivity, safety, security, and well-being.
The U of T's Robotics Institute, the largest and most diversified robotics program in Canada, is a member of the CRC. The Robotics Institute is a member of the Institutional Strategic Initiatives portfolio which increases the U of T's capacity to support large-scale, high-impact interdisciplinary research. 
Symposium participants reviewed and discussed the conclusions of a new study commissioned by Innovation, Science and Development Canada and conducted by Avascent. The study compared Canada's robotics industry to global competitors and identified the threats and opportunities it faces. 
 Avascent's report found that opportunities for growth align with regional strengths. Ontario is Canada's leading province for robotics companies, with 32% of the country's total activity in this sector. The province's robust automotive industry accounts for 57% of the robots used in Ontario, making the auto sector a significant driver of demand for robotics applications.  
Within Ontario, robotics activity is clustered in the Innovation Corridor, with Toronto and Mississauga and the Kitchener-Waterloo region as central clusters for robotics companies.
Ontario also provides an example of the success possible in a region that has multiple robotics strengths. Avascent found that:
There are 155 robotics companies in Ontario. Robotics firms located in the GTA serve more sectors – including healthcare, logistics, agriculture, and manufacturing – than the average Canadian firm. Robotics firms located in the Kitchener-Waterloo region likewise demonstrate above average capabilities in terms of the number of sectors served.
There are 44 academic robotics labs in the province, including U of T's Robotics Institute, which is home to the largest and most diversified robotics program in Canada; and
Robotics researchers in Toronto, Montreal, and Edmonton benefit from their proximity to Canada's 3 national AI institutes, with many leading firms originating from academic institutions such as U of T.
Several strategies were recommended through the study and the symposium, including:
Leveraging Canada's expertise in collaborative robotics, or cobots whose lighter weight, user-friendly, safer, and lower-cost designs make them especially well-suited to support SMEs.
Doubling down on the research strength in universities and ensuring a strong talent pipeline.
Communicating the productivity-enhancing impact of integrating robotics across multiple industries. For example, wages in advanced manufacturing, which includes robotics integration, are more than 50% higher than the Canadian average, according to a report by the Innovation Economy Council and Next Generation Manufacturing Canada. This reality counters fears of robots leading to job losses – in reality, the opposite is true: Companies that adopt robotics technologies also increased the number of jobs by 20%.
Building strong networks of robotics technical, business and policy expertise that includes industry, academia, and federal and provincial governments.
Tracking the evolution and growth of the robotics sector.
Generating and disseminating success stories and use cases that clearly demonstrate where adopting robots brings value in real terms (e.g. productivity, safety, accuracy and consistency, etc.)
Despite the challenges identified, the CRC notes Canada's educated population, technological prowess, and industrial base makes it uniquely positioned to be a global leader in robotics. According to a report by the Economist Intelligence Unit, Canada ranks 5th globally for Automation Readiness. 
To learn more about the ideas gathered during the symposium and the steps the CRC will take to address these issues and support their members, click here.