How to narrow the gap between new graduates and employers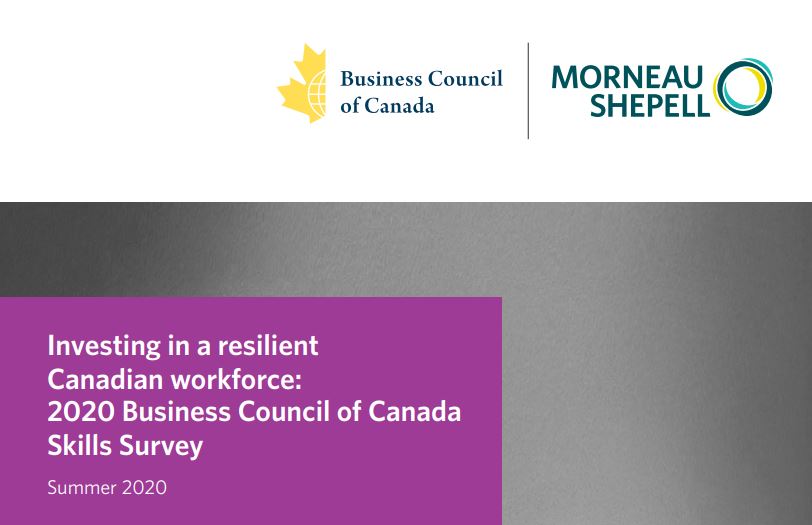 Communication and sharing of data and expectations between employers, new graduates and postsecondary institutions will support a resilient workforce, a new report from the Business + Higher Education Roundtable and the Business Council of Canada finds.
Investing in a Resilient Canadian Workforce: Business Council of Canada Skills Survey 2020 surveys 86 companies employing 850,000 employees in financial, manufacturing, telecoms and other sectors. Employers were polled on how they are preparing for the future of work, the skills they find desirable in new employees, their experience working with postsecondary institutions and their investment in learning and innovation.
Here are three ways in which better communication and information about the labor market can improve long-term growth and productivity.
Employers and new graduates have different expectations. Communication can help close that gap. Collaboration, teamwork, relationship building, and ability to "hit the ground running" top the wish list for both the mid-level and entry-level recruiters. Entry-level employees are expected to bring strong communication, problem solving, and resiliency skills to the workplace. Yet some employers report that new hires are still developing professional skills.
Simultaneously, recent graduates are asking for opportunities to advance, meaningful work, increased guidance, and improved work-life balance. They are partly choosing employers based on their agility and technological savvy, an area where startups excel.
Graduates of U of T are the most prepared in Canada to bridge that gap. The university is ranked first in the country and 8th among the world's public universities in producing work-ready graduates by Times Higher Education. The rankings are based on surveys of thousands of recruiters and managing directors at large international companies.
Collaboration between large Canadian employers and postsecondary education continues to grow. Eighty-three per cent of respondents said they have a relationship with one or more postsecondary institution that brings students or new graduates to the workplace. That figure is an increase from 76 per cent in 2016. Collaboration with postsecondary institutions is significant and long-term, with 83 per cent of employers reporting they now have co-op programs (up from 72 % in 2018) and 39 per cent reporting applied research projects (up from 25 per cent in 2018). Employers are seeking a better understanding of how academic programs align with their needs and faster responses to emerging workplace skills gaps.
In recent years, co-op and experiential learning experiences have expanded to arts and humanities fields. At the University of Toronto Scarborough, for example, students enrolled in the Arts Management program gain workplace experience in arts organizations as part of their degree. These opportunities join long-running professional experience placements for thousands of students across the University of Toronto, including in engineering – the largest paid co-op program of its kind in Canada – as well as in government, community organizations and business.
Employers are willing to invest in lifelong learning. Many employers said they would spend as much as $1000 to reskill their employees and almost three-quarters of employers are prepared to increase their spending on training employees in the next three years. Re-skilling and upskilling range from programs that target specific skills to digital and PSE specialization and boot camps and micro-credentials. At the same time, a quarter of the respondents would like the government to play a larger role in re-skilling the workforce, particularly when the need for retraining is a consequence of digitization.
Read the full report below.