U of T hosts conversation on industry-academic partnerships in life sciences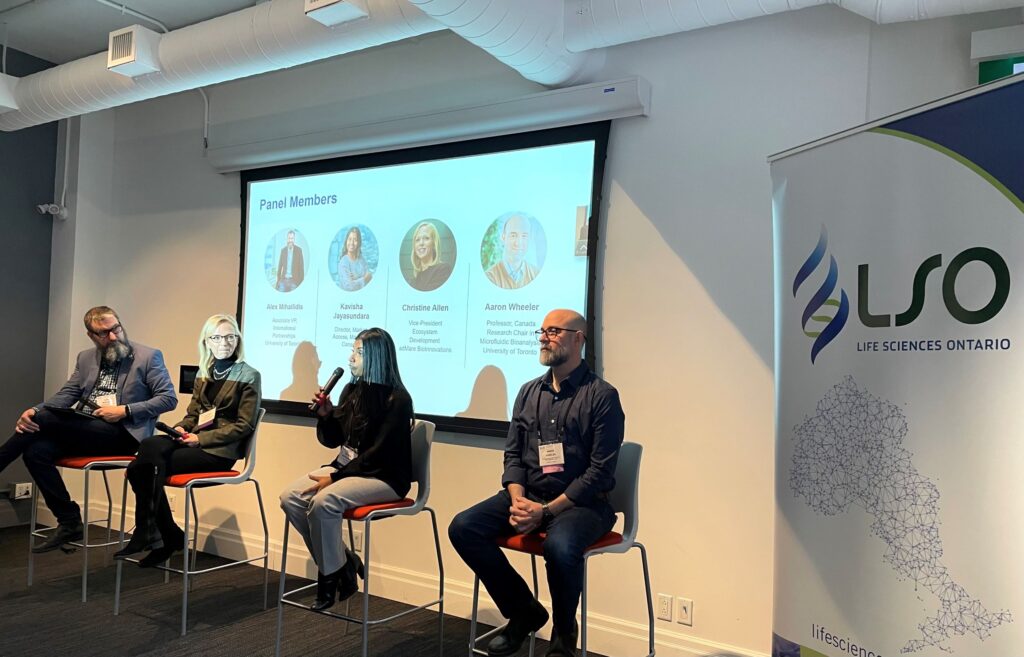 Industry-academic partnerships in the life and health sciences are a valuable avenue for testing markets and retaining advanced talent in Canada, a recent forum held at the University of Toronto heard.
Attended by participants from research organizations, government and the private sector, the forum was organized and hosted by the university, and is part of a series of discussions throughout the spring that engage the province's life sciences sector and Life Sciences Ontario (LSO). LSO is a provincial organization whose mission is to foster commercial success for the province's life sciences sector.
The discussion aimed to help participants better manage collaborations between the private sector and academia and learn from participants' experiences. With more than 600 partners across various sectors in the past decade, the University of Toronto has a depth of experience in this area, reflected in the panel participants.
Kavisha Jayasundara, Director, Market Access, Moderna Canada; Christine Allen, Vice-President Ecosystem Development, adMare Bioinnovations and Professor, Leslie Dan Faculty of Pharmacy; Aaron Wheeler, Professor, Canada Research Chair in Microfluidic Bioanalysis, U of T, led a conversation with the audience that was moderated by Alex Mihailidis, Vice-President, International Partnerships, U of T. Leah Cowen, Vice-President, Research and Innovation, Strategic Initiatives at University of Toronto welcomed attendees.
The forum discussed the critical elements that lead to success for each organization in a research partnership.
These include:
Interest alignment: Do the industry partner and the research team have the same understanding of the challenge? 
Sufficient resources: Are the skills and infrastructure resources required suitable to the scale of the challenge?
Appreciation for long-term benefits: A key benefit of industry-academic partnerships are the connections and opportunities created for trainees and students, and their importance to talent retention in Canada.  
Understanding of the market: Early input from clinicians and industry is required to ensure a new product responds to a defined market need and will be adopted by end users and accepted by patients.
Flexibility: Being nimble and agile while managing industry-academic partnerships is key to preventing failure of the collaboration, and allowing the science to open new and sometimes unexpected avenues.     
The event was hosted at ONRamp; the LSO series continues throughout the spring.