U of T receives $35 million to modernize high containment facility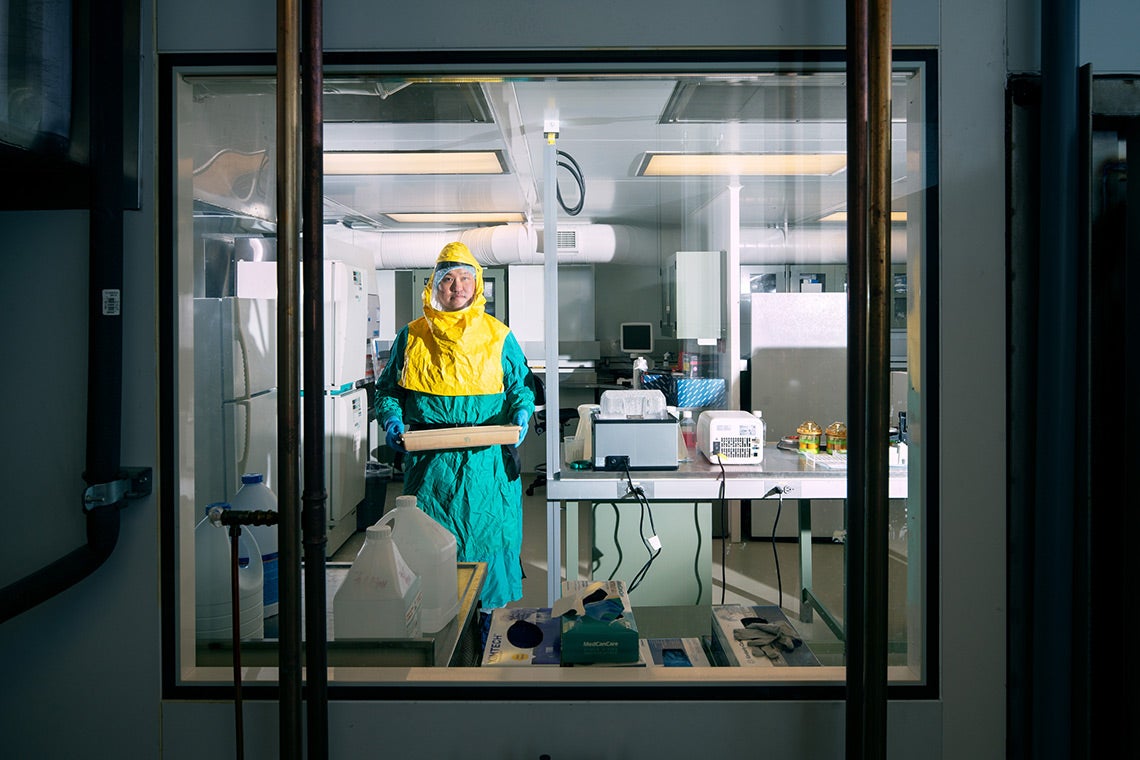 The University of Toronto has received $35 million in critical research infrastructure funding from the federal government to revitalize the Toronto High Containment Facility (THCF), an investment that positions the facility to play a significant role in addressing future pandemic and health threats in Ontario and Canada.
The investment, which comes from the Canada Foundation for Innovation's (CFI) Biosciences Research Infrastructure Fund (BRIF), is the largest CFI grant U of T has received to date and will support the university's $85-million plan to modernize the 20-year-old facility.
Investments from other stakeholders – including the provincial government, hospital partners and philanthropists – are needed to ensure the successful completion of the critical project. Bringing together academic, hospital, industry and government partners, the modernized THCF will also provide space to research teams from U of T's three campuses and other universities including Guelph, Queen's, Toronto Metropolitan and York.
The funding support was announced by François-Philippe Champagne, minister of innovation, science and industry, at the annual Canadian Science Policy Conference in Ottawa. Across Canada, eight biosciences lab facilities at Canadian universities received funding.
"This investment, guided by the Biomanufacturing and Life Sciences Strategy, will help build Canada's talent pipeline and research systems to grow a competitive domestic life sciences sector, with cutting-edge biomanufacturing capabilities," Champagne said.
Based at the Temerty Faculty of Medicine, the THCF houses the largest containment level 3 lab in the province. It is equipped to allow researchers to study high-risk pathogens, such as SARS-CoV-2, HIV and the bacteria that causes tuberculosis, in a safe and secure way. The facility is also a cornerstone of the Emerging and Pandemic Infections Consortium (EPIC), a U of T institutional strategic initiative and collaboration between U of T and its hospital partners in the Toronto Academic Health Sciences Network (TAHSN) to drive innovative approaches to infectious diseases and prepare for future pandemics.
"This groundbreaking investment in the THCF will strengthen our ecosystem of collaboration and enable researchers at U of T and our partner hospitals to get ahead of future pandemics," said Scott Gray-Owen, academic director of the THCF and EPIC, and a professor of molecular genetics in U of T's Temerty Faculty of Medicine.
"It will empower our research community to address key questions and take discoveries through the innovation pipeline – from fundamental research to preclinical testing – accelerating progress that will benefit people in Canada and around the world."
During the COVID-19 pandemic, the THCF played a critical role in accelerating key research breakthroughs that guided the pandemic response in Ontario and Canada – including becoming the first lab in Canada, and among the first in the world, to isolate the new coronavirus in March 2020. It completed research for the Public Health Agency of Canada, Bank of Canada, Royal Canadian Mint and Ontario Human Milk Bank, validating methods to allow safe reuse of personal protective equipment in health-care settings and ensuring safe human milk banking for premature babies throughout the pandemic, among other projects. The lab also supported academic projects to track new viral variants and understand transmission dynamics, as well as industry-led research efforts to develop new vaccines, drug candidates and immunotherapies that are currently being tested in clinical trials. Industry partners supported include: Edesa Biotech, I3 BioMedical and Providence Therapeutics.
"The federal government's support of the Toronto High Containment Facility through the BRIF recognizes the critical role this facility, its researchers and our hospital partners are playing in protecting Canada's health security," said Leah Cowen, U of T's vice-president, research and innovation, and strategic initiatives. "This is an important investment in critical infrastructure that will assist our talent and research to develop home-grown therapies and products that will protect Canadians' well-being."
The facility ran 24-7 during the pandemic as researchers pivoted their work from existing infectious diseases such as HIV and tuberculosis to deal with the new and urgent threat. The new federal investment will assist the facility to grow and be able to respond quickly to new threats while maintaining ongoing research projects.
Once complete, the updated lab space will provide increased research capacity to study a greater variety of emerging and re-emerging pathogens and allow it to take on new projects during a pandemic without compromising its ongoing work. It will also offer more opportunities to train the next generation of infectious disease leaders since training in operations and regulatory requirements at the facility mirror the manufacturing practice requirements for biopharmaceuticals and biomanufacturing. That, in turn, strengthens the talent pipeline to drive innovation and manufacturing in Ontario.
With 55 per cent of Canada's pharmaceutical companies located in the greater Toronto area, the investment will further enhance the capacity of the life sciences ecosystem in the region to draw industry partners.
U of T and its hospital partners are already considered an engine of entrepreneurship in the health and life sciences in the region. They have helped create more than 200 startups over the past decade and are engaged in industrial partnerships valued at more than $100 million annually. This past spring, Moderna signed a partnership with U of T to prevent and treat infectious diseases.
The investment supports efforts to revitalize and expand THCF, transforming it into the largest high-containment academic research centre in Canada. The THCF renewal will be undertaken in collaboration with U of T's hospital partners: The Hospital for Sick Children, Sinai Health, Sunnybrook Health Sciences Centre, Unity Health Toronto and University Health Network.