New microcredentials to upskill workers in biomanufacturing industry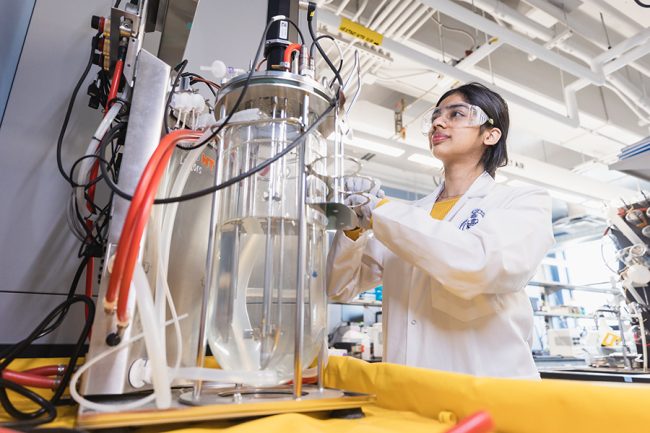 Supriya Shivanna (ChemE MEng candidate) works on a bioreactor in U of T Engineering's BioZone. BioZone, along with CCRM, will host experiential learning components for a new set of microcredentials designed to help learners — both within and beyond U of T — gain the skills they need to contribute to Canada's biotech industry
U of T Engineering has partnered with CCRM, BioZone and the School of Continuing Studies on a new set of microcredentials that will help workers across Canada's biomanufacturing industry to upgrade or strengthen their skills.
Biomanufacturing refers to the industrial-scale production of many different products, including pharmaceuticals, vaccines, emerging products such as cell and gene therapies and even commodity chemicals and fuels. BioTalent Canada has estimated that by 2029, Canada may require as many as 65,000 additional workers in this sector.
"U of T Engineering already has a lot of experience producing highly-qualified personnel in the biotechnology space, as well as strong links with a large network of partners in this area," says Professor Julie Audet (BME), Vice-Dean, Graduate Studies at U of T Engineering.
"We wanted to leverage these relationships to provide hands-on, experiential learning opportunities that can help people level-up their skills, whether they are already in the industry or thinking of moving into it."
Audet and her collaborators — including CCRM, a not-for-profit organization that supports the commercialization of cell and gene therapies, and BioZone, a centre for applied bioscience and bioengineering research at U of T — received funding from the Ontario Microcredentials Challenge Fund to help develop three new courses covering a range of topics in biomanufacturing.
The courses, which are administered by U of T's School of Continuing Studies, are:
Good Manufacturing Practice in Biomanufacturing
Quality Assurance Management in Biomanufacturing
Bioprocess Foundations
The first two of these courses will be available in the fall of 2023, while the Bioprocess Foundations course will run in the winter 2024 semester. Learners enrolled in these courses will be eligible to apply for funding from the Ontario Student Assistance Program to cover the course fees.
Each course includes six hours of instructor-supervised asynchronous, self-directed learning modules, followed by another six hours of in-person interaction with operators and industry professionals at an Ontario biomanufacturing facility.
For the first two courses, that facility will be CCRM's Centre for Cell and Vector Production (CCVP). CCVP is a Good Manufacturing Practices (GMP)-compliant facility built in partnership with the University Health Network to produce cells and viral vectors for in-human Phase I and II clinical trials.
"CCVP is a leading biomanufacturing centre with 10 clean rooms and nearly 100 employees who are dedicated to the production of cell and gene therapies for clients around the world," says Sarah Lepage, Manager of Training Programs at OmniaBio, a subsidiary of CCRM.
"Learners will have the opportunity to tour the 20,000 square foot facility, interact with GMP operators, and help complete a live simulation of a cell manufacturing process. Participants will learn about how cell therapies are produced and the importance of the clean room environment in biomanufacturing."
In the third course, students will visit BioZone to interact with researchers who work at the interface of biology and engineering, and who share a common vision: to use the most advanced and innovative biotechnology to address urgent societal needs in energy, environment and health.
"Manufacturing vaccines, pharmaceuticals, and other bioproducts at scale requires quantitative understanding of biological processes at both the cellular and bioreactor level," says Professor Christopher Lawson (ChemE), a member of BioZone who helped develop the Bioprocess Foundations course.
"This course will provide students with a basic skill set in quantifying cell growth, product formation, and bioreactor operations, while also providing an opportunity to perform real fermentation runs with an 80L industrial fermenter housed within our BioZone laboratories."
"The COVID-19 pandemic underlined the importance of having both the facilities and personnel to manufacture vaccines, monoclonal antibodies and other bioproducts," says Audet.
"But it's not just about being prepared for the next crisis: it's about leading the way forward. Canada has the capacity to be a strong player in the biomanufacturing sector, but other parts of the world are catching up fast. This kind of training will help ensure that we stay on top when it comes to translating the next generation of medical interventions from the lab to the marketplace."
(Article by Tyler Irving, Photo by Neil Ta)
Read more about policy in the news here.