Canadian Robotics Council to advance robotics adoption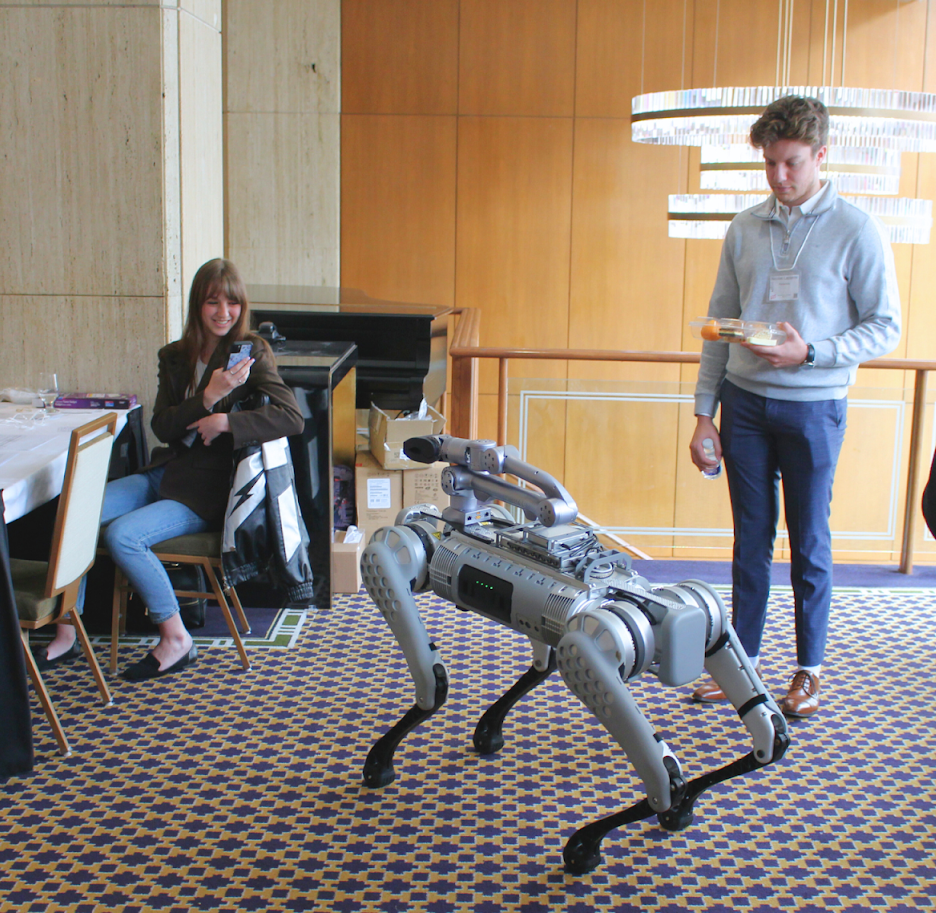 Talent shortages, supply chain disruptions and limited robotics adoption outside key industries are among the greatest challenges facing Canada's robotics industry, a conference dedicated to the industry heard earlier this summer.
Solving these issues would contribute to closing the country's productivity gap and raise skill and salary levels, but it demands co-ordinated action across the robotics ecosystem.
Over 100 participants joined the Canadian Robotics Council (CRC)'s second annual Symposium in June, including representatives from government, industry and academia.
The event kicked-off with remarks from CRC's Executive Committee co-chairs, Hallie Siegel, Managing Director of Strategy and Partnerships at the University of Toronto Robotics Institute, and Ryan Gariepy, Chief Technology Officer at Clearpath Robotics and OTTO Motors.
Siegel reflected on CRC's recent accomplishments. For decades, Canada lacked a national association that represented the interests of the robotics industry. Launched in 2022 and formally incorporated as a non-profit in 2023, the CRC fills a longstanding gap and serves as the collective, national voice for robotics in Canada.
Since the CRC's inaugural Symposium in 2022, Siegel noted the group has:
Grown to include three committees that are mapping the robotics industry, research and government landscape in Canada and developing case studies demonstrating the benefits associated with robotics adoption for a range of industries;
Grown to 150+ members, with an ecosystem that includes representatives from robotics and adjacent sectors;
Published several reports identifying opportunities for growth; and
Expanded global collaborations at international conferences like Automate and ICRA.
Gariepy noted robotics can improve workplace safety and competitiveness, and contributes to high-skilled and well-paying jobs. Despite this, while Canada is at the forefront in the adoption of robots in the automotive industry, other sectors lag in global rankings of robot adoption. For Canada to lead across industries, "we need everyone working together across the value chain – industry, government and academia – to coordinate and share best practices."
The event was organized by program co-chairs Ramzi Asfour, Associate Director of Ingenuity Labs at Queen's University and member of CRC's Research & Training Committee, and Charles Deguire, CEO at Kinova Robotics and member of CRC's Executive Committee. It included several presentations and panel discussions building on key findings from the CRC's 2022 What We Heard report, including the need to bolster robotics adoption and talent development.
Keynote speaker Andrew Allen, Director of Technology Strategy at MDA and Co-Chair of the CRC's Industry Committee, presented on Canadarm3, which is being designed by the Brampton-based firm. Composed of a large and small robotic arm, Canadarm3 is a highly autonomous robotic system using AI-enabled sensors to perform tasks around the moon without human intervention. In fact, this technology has its roots at the University of Toronto, with two prominent robotics researchers having led the development of this technology — contributing to Canada's reputation in space technology.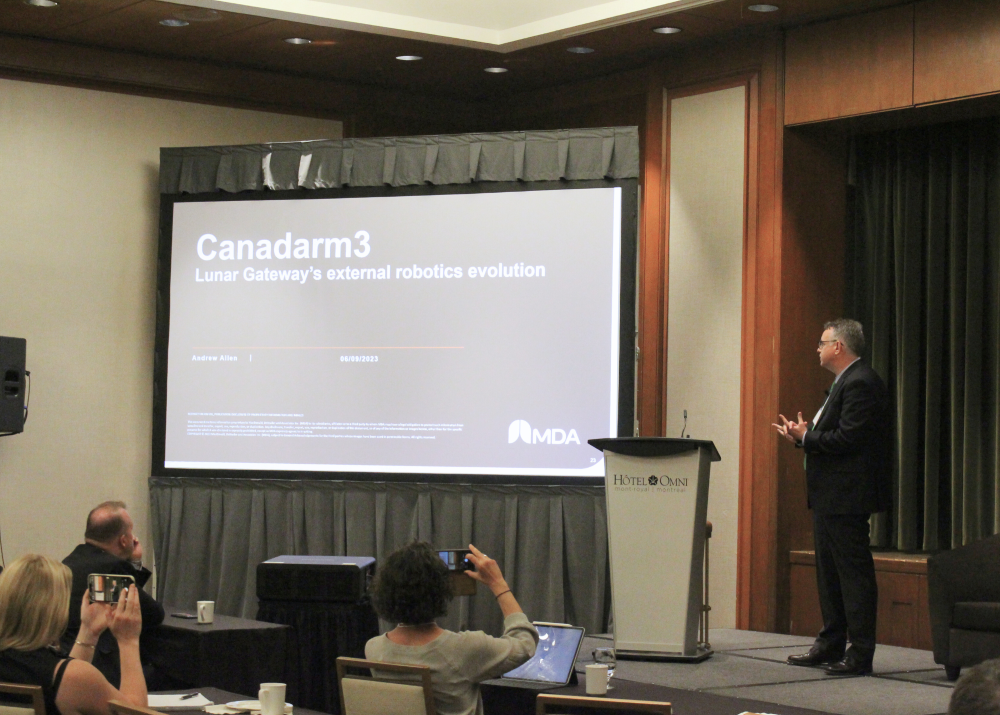 Andrew Allen (right), presents the symposium keynote address on MDA's Canadarm3 progress. (Photos: Ramzi Asfour)
How can we advance robotics adoption in Canada's industries?
In a panel discussion on robotics adoption, moderator Pablo Molina, Chief Technology Officer at Avidbots and Co-Chair of the CRC's Industry Committee, discussed Canada's ranking in comparison to peer nations.
"Canada has world-class academic institutions, but robot adoption is an area that needs improvement. In 2018, Canada was fifth in The Economist's automation readiness ranking, while South Korea, Germany, Singapore, and Japan took top spots… Various countries have long-term national robotics strategies and funding programs, which Canada lacks," said Molina.
Charles Deguire shared how the perception of robots is starting to change, "I no longer get asked if I feel bad about my robots taking away jobs — now manufacturers ask how quickly they can get my robots."
Veronique Proulx, President and CEO of Quebec Manufacturers and Exporters, spoke to the core challenges facing manufacturers today, namely labour shortages, supply chain disruptions and barriers to technology adoption.
"Labour shortages are the biggest barrier to growth for Canada's manufacturing sector. Our 2021 survey found 80 per cent of CME members are affected by labour and skills shortages, and it affects manufacturers of all sizes," said Proulx. "This costs the Canadian economy almost $13 billion due to lost sales, penalties for late delivery, and postponed or cancelled investment projects."
Immigration plus training and upskilling are critical to addressing this challenge.
Technology adoption is particularly low among small businesses. Around 35 per cent of businesses find it difficult to integrate technologies into existing systems, standards and processes. Additional barriers include: high purchasing costs, uncertainties around the economic return on investment and a lack of skilled workers. "We need to create awareness of the issue and provide SMEs with support so that they can prioritize technology adoption," Proulx added.
Christy Michalak, Director of Advanced Manufacturing Development Programs at NGEN, discussed how the organization is helping manufacturers address labour shortages.
"Retiring workers will leave a trillion-dollar gap in North America's manufacturing sector. This workforce must be filled by 2030. NGen's Transformation Leadership Program provides organizations with funding to upskill workers for a variety of roles. This can in turn help organizations adopt technologies into their operations," said Michalak.
Is Canada doing enough to build the right robotics talent?
As new talent is trained, engineering schools and companies are looking to increase diversity and inclusion in the next generation.
In a panel discussion on talent development, Chelsea Elliott, Director of Corporate Relations at Queen's University, highlighted the need for structural changes to increase the representation of women and other underrepresented groups in engineering.
"At Queen's, we're building in ways to reduce barriers so that we have greater diversity of thought and approach," said Elliot. She also noted students in engineering want to make an impact and are increasingly interested in addressing larger societal issues, such as sustainability and wellness.
Patrice Corneau, Director of Engineering at MacLean Engineering, spoke of the need for diversity in engineering. "The mining industry has a mandate to hire Indigenous People. If we broaden our training and education offerings, [industry] will be able to hire more Indigenous People and broaden our talent pool," he said.
The event concluded with closing remarks from Charles Deguire, who reinforced the importance of a Canadian robotics strategy, "having a national strategy is proven in many countries to be a significant catalyst for investment. This would help Canada rank much higher for robotics adoption and development."
The CRC will host its third annual Symposium in 2024. The event is expected to attract up to 400 attendees in Toronto, allowing members and stakeholders to network, learn about trends and discover new technologies. Stay tuned for more details, including registration.
Learn more about the opportunities and challenges facing Canada's robotics ecosystem in the CRC's What We Heard report.
Top photo: InDro Robotics, demos a quadruped robot at the CRC Symposium micro-exhibition. Quadruped robots have many applications — for example, through embedded sensors and AI, they can perform inspections and surveillance in areas unsafe for humans. (Photo: Ramzi Asfour)