Canada's Innovation Minister Tours U of T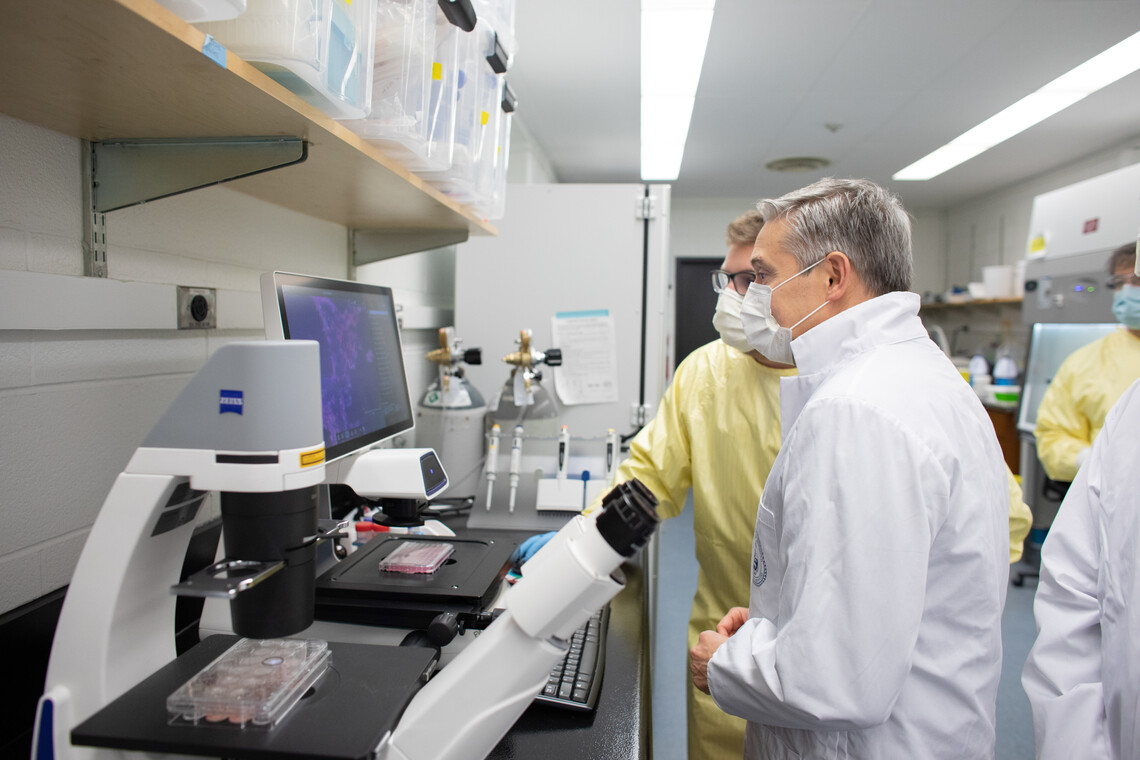 Science, technology and innovation are vital to addressing urgent challenges such as the COVID-19 pandemic and climate change – and institutions such as the University of Toronto are playing a key role.
That was the message delivered by François-Philippe Champagne, Canada's minister of innovation, science and industry, during a visit to U of T's St. George campus this week.
The visit included a meeting with U of T President Meric Gertler, a look at the massive geoexchange field that's being built on Front Campus as part of the Landmark Project and a tour of U of T's Combined Containment Level 3 (C-CL3) lab, which conducts critical research and validation on various infectious diseases, including COVID-19.
Champagne hailed U of T for generating breakthrough solutions for pressing global challenges, highlighting the pandemic and climate change as two chief concerns. He also praised the university as a wellspring of research and innovation talent that drives economic growth across sectors.
"In the economy of the 21st century, it's all about having a pool of talent to attract investment. I told [President Gertler] that it all starts here at the university: If you want to see where the future starts, it's here – because if we have the talent pool here, we'll be able to find breakthrough solutions and with the breakthrough solutions will come investments," he said, following the tour.
"I've seen today how the leadership, researchers, the professors that I've met and the students are setting the ground for the future. I'm very pleased to be talking with the president and faculty to see how we can accelerate the work we've been doing in order to provide more opportunities."
Read more (Rahul Kalvapalle)