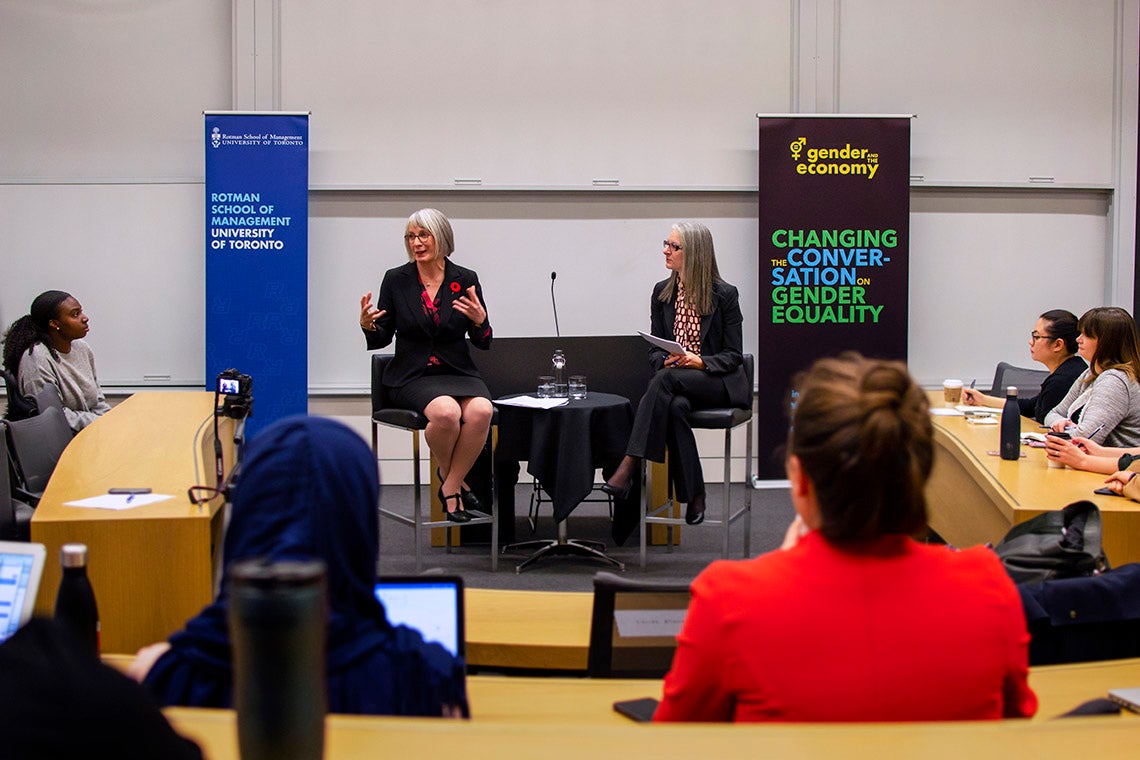 Federal Labour Minister Patty Hajdu and Professor Sarah Kaplan speak to students at the Rotman School of Management on Wednesday afternoon (photo by Victoria Heath).
Advancing gender equality is not just good for women, it's good for all Canadians, says Patty Hajdu, the federal minister of employment, workforce development and labour.
When Canadian women can count on equal pay for work of equal value, our economy grows stronger and communities thrive, she told students at the Rotman School of Management on Wednesday afternoon.
"Pay equity is about having that important, critical conversation about the valuation of women's work," she added.
Hadju elaborated on the point by discussing the example of care work – an industry dominated by women – and how proper assessment of its significance and compensating workers appropriately could go a long way in closing the gender wage gap.
Hajdu was joined by Professor Sarah Kaplan, director of the Institute for Gender and the Economy (GATE) at Rotman, for the fireside chat-style event.
A variety of U of T students, many of them enrolled in management, women's studies and labour relations programs, attended the event, asking questions about the challenges and initiatives currently underway to tackle pay equity in Canada.
In Canada in 2017, for every dollar a man earned, a woman earned around 88.5 cents on the dollar, as measured in hourly wages for full-time workers, according to statistics released by the federal government.
Responding to this gender wage gap, the federal government introduced a new Pay Equity Act in their latest budget bill earlier this week. The new legislation requires federally regulated workplaces to examine their compensation practices and ensure that women and men receive equal pay for work of equal value.
In many ways, it's quite fitting that a followup discussion with students on this new act was held at the Rotman School. Kaplan – who moderated the question-and-answer period for the event – and her colleagues at GATE are leading new research in this space.
GATE's faculty research fellow, Assistant Professor Dionne Pohler, is currently examining the direct and indirect causes of the gender wage gap. Kaplan recently authored an explanatory piece for the September issue of U of T Magazine and in April, was invited by the Legislative Assembly of Ontario to address the Standing Committee on Social Policy about the Pay Transparency Act and the sources of the gender wage gap.
In their work, Kaplan and her colleagues are quick to emphasize that achieving pay equity in Canada will require multiple interventions.
Though many imagine that this inequity comes from organizations intentionally – and illegally – paying women less than men for the same job, the research shows that this isn't the primary cause for the pay gap, said Kaplan.
Instead, the gender wage gap typically emerges around the time women have their first child.
"When women are still expected to be the primary caregivers at home, and when child care is expensive or hard to access, women often find they have to shift to more flexible jobs or part-time work," she said. This job segregation is a primary driver of the gender wage gap.
"We're in need of a real cultural shift, both in families and in organizations, in addition to improved legislation," said Kaplan.
"The proposed legislation is a step forward, but to make it more effective, it will need to be coupled with policies that favor sharing of parental leave, more support for childcare, and new ways of working in organizations."