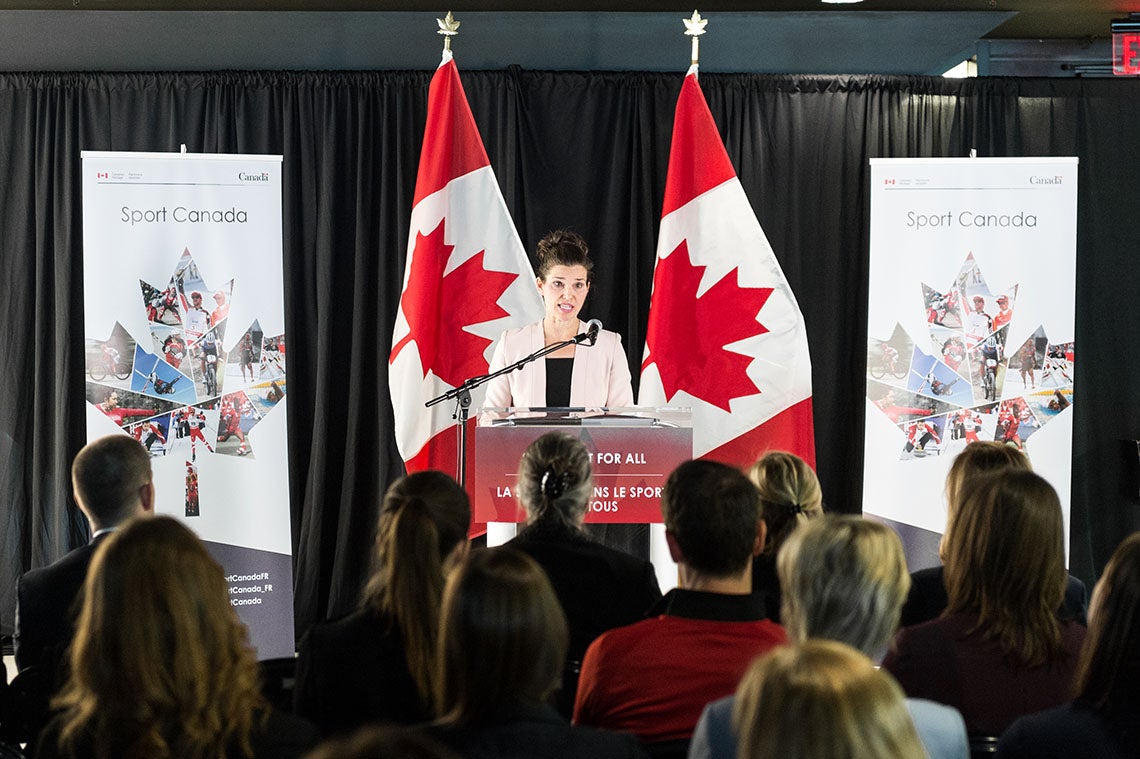 Kirsty Duncan gives a press conference at U of T on Wednesday to announce new initiatives to tackle abuse and discrimination in sport (photo by Seyran Mammadov).
Kirsty Duncan, the federal minister of science and sport, came to the University of Toronto's Goldring Centre for High Performance Sport on Wednesday to announce two new initiatives addressing abuse and harassment in sport.
The federal government will create an independent investigation unit and a national toll-free confidential helpline for victims and witnesses of harassment, abuse and discrimination in sport, Duncan said
The announcement comes on the heels of a CBC investigation published in February that revealed at least 222 coaches who were involved in amateur sports in Canada have been convicted of sexual offences over the past 20 years. These cases involved more than 600 victims under the age of 18.
"We are putting our athletes and children in sport first, from the playground to the podium, by creating a safe space for them to report incidents of abuse, discrimination and harassment," said Duncan, a former gymnast who became a coach and judge.
"This is part of the systemic culture change we are creating so that everyone can experience the best that sport has to offer."
Ira Jacobs, professor and dean at the Faculty of Kinesiology & Physical Education, said the safety issue is one the faculty "takes very seriously and I am very proud of the significant contributions our researchers have made and are continuing to make to inform the government of Canada's efforts to make sport safe for all participants."  
From left: Ira Jacobs, Gretchen Kerr, Peter Donnelly, Kirsty Duncan and Ashley Stirling (photo by Seyran Mammadov).
Gretchen Kerr and Peter Donnelly, professors at the faculty, wrote a paper in the summer urging revisions in Canada's policies on harassment and abuse in sport. Last week the federal government announced that Kerr and other U of T researchers will conduct a baseline prevalence study to measure athlete experience with all forms of maltreatment, including sexual, emotional and physical abuse, neglect, harassment, bullying, exploitation and discrimination. 
"The study will aim to identify opportunities to further support athlete wellness, gauge the comfort levels of athletes when it comes to reporting incidences of maltreatment and provide recommendations on new initiatives to address abuse, discrimination and harassment from an athlete's perspective," said Kerr, who will be leading the study with support from Erin Willson, a former Olympian and graduate student in the Faculty of Kinesiology & Physical Education's exercise sciences program, and Associate Professor Ashley Stirling, the faculty's vice-dean of academic affairs.
"It's inspiring to see the impact of our research on evidence-based policy and action," said Stirling. "I'm hopeful that with a collective focus on safeguarding athletes from harm, the impact of our research will be felt most importantly in the quality of athletes' sport experiences."  
The announcement on Wednesday builds on a series of measures announced by Duncan over the last year, including withholding funding from national sport organizations if they fail to take all necessary measures to create a workplace free from abuse of any kind and developing a Code of Conduct for all sports at all levels.